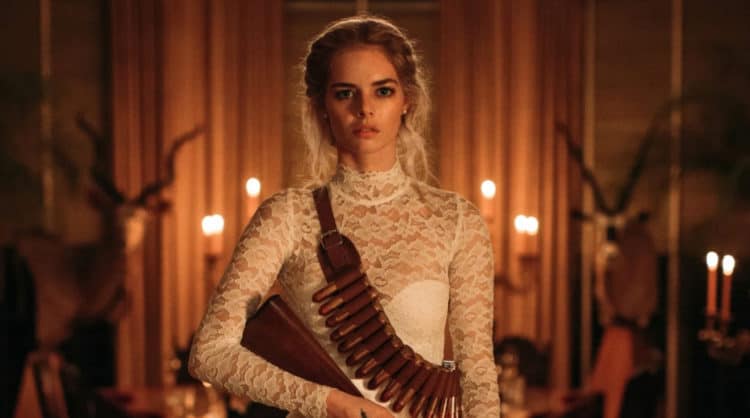 Before you ask, yes, Samara Weaving is related to famous actor Hugo Weaving. He is her uncle and there's no telling if he had the pull to get her into the business but it certainly doesn't hurt to know people in influential places. That being said she is an Australian actress that's still relatively new to the business and is thus far having a good run at a career as both an actor and a model. She's been involved in the dramatic arts for a while now and seems to fully enjoy the lifestyle and the chance to hone her skills and continue to rise in her profession.
Here are a few things that you might not have known about her.
5. Her father is a film maker and artistic director.
Simon Weaving is the artistic director of the Canberra International Film Festival and a noted film maker. It's definitely easier to get into the industry when your family is already so heavily involved it seems, but it might also put a lot more pressure on a person to actually do something that the family understands. Thankfully Samara has taken to acting with great passion.
4. She was born in Australia but was raised in Singapore, Fiji, and Indonesia.
What I wonder about this is if she had to apply for citizenship in each place she's lived or if her family have moved between the different locations enough that they could get by on a visa. It's simply an interesting question that kind of begs an answer but isn't crucial enough to demand one. That seems like a lot of moving as well for a family but if it works then it works.
3. Her younger sister is an actress as well.
A family that enjoys the same profession might be closer you'd think or they could be just like any other family and subject to different schedules and situations. In any case it's at least a hint of solidarity and the fact that they could compare stories might be fun. It's hard to know what really passes between families that share the same profession, more or less.
2. She's starred with some very notable celebrities.
She's set to star in a production called Mayhem with Steven Yeun, formerly of The Walking Dead, coming up. She's also starred with Natalie Dormer from Game of Thrones and several others in her career thus far. It'd be nice to think that she's learning something from those that have attained such success and could possibly apply their wisdom to her career.
1. Her picture was used in a political hoax in 2016.
In June of last year she was shown in full makeup from her part in Ash vs. The Evil Dead. This picture, which shows her as beaten and abused, was used to stoke the fires of an political debate that had to do with showing how fascism affected Trump supporters. The picture wasn't even identified as Samara until her costar Bruce Campbell took to social media and put the picture on blast by first naming her and then denouncing the source while admitting that she was in full makeup for the show.
Barring any more silly hoaxes it will be interesting to see how far Samara will go.