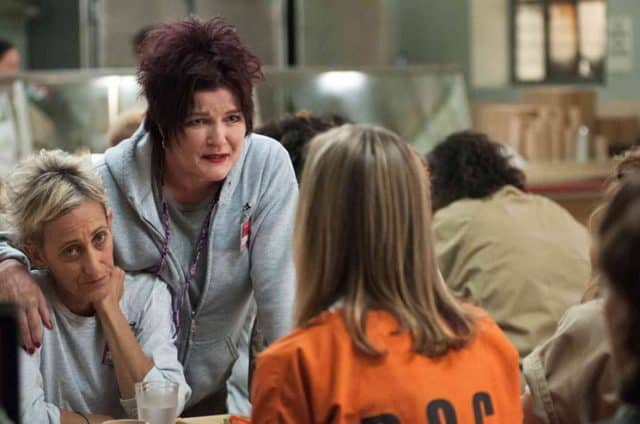 Kate Mulgrew is an American actress who has had a prolific career in stage, television and film. She is a staunch advocate of several causes including Alzheimer support and anti-abortion. Here are 5 things you didn't know about Kate Mulgrew.
1. She's from Iowa
Kate Mulgrew grew up in Dubuque, Iowa. She was born on April 29, 1955. Her Irish Catholic parents were Thomas "TJ", a contractor, and Joan, an artist. Mulgrew was always interested in acting and after graduating from Wahlert High School in Dubuque, she was accepted to Stella Adler Conservatory a part of New York University. Mulgrew only stayed there a year before actively pursuing an acting career and worked a waitress in New York City.
2. She was a soap opera star
Like many stars with prolific careers, Kate Mulgrew got her break in a soap opera. She played beloved character Mary Ryan on ABC's "Ryan's Hope" during the 1975's. It was during this time that Mulgrew found herself pregnant. She gave the baby up to adoption. During the time Mulgrew pursued stage acting and played the part of Emily Webb in the American Shakespeare production of "Our Town" in Connecticut. She also starred in a spinoff of "Columbo" as Mrs. Columbo. The short-lived series was created for her.
3. She's won many acting awards
Kate Mulgrew has had a successful career as a television, film and stage actress. She played the long running role of Captain Kathryn Janway in UPN's "Star Trek: Voyager". The character was the first female captain in the Star Trek series. Mulgrew was a guest character on several television series including "Dallas", "Cheers" and "Law and Order". Her film career includes movies from 1981's "Lovespell" and "Throw Momma From the Train" and "The Best and the Brightest".
Throughout her career Mulgrew has acted in plays. These include "Chapter Two", "Cat on a Hot Tin Roof" andthe one woman play "Tea at Five" in the role of Katherine Hepburn. Mulgrew has won an Obie, Golden Globe and Primetime Emmy Award. She has been lauded with her work in support of the Alzheimer's Association. Her mother passed away after a long battle with the disease.
4. A politician's wife
Kate Mulgrew married Robert Egan in 1982 and they had 2 children. They divorced a decade later. Throughout the years, Mulgrew tried to find the daughter she gave up for adoption. Tim Hagen, a politician from Ohio, helped her. The former Cuyahoga County commissioner and one time candidate for governor and Mulgrew married in 1999.
She finally reunited with her daughter who had also been searching for her in 2001. Mulgrew wrote a memoir about the pain of giving up her daughter at the start of her career and their wonderful reunion decades later. The book is called "Born With Teeth" referring to her daughter being born with all of her baby teeth. Mulgrew and Hagen divorced in 2015.
5. She's Red in Orange is the New Black
Fans of the Netflix series "Orange is the New Black" know Kate Mulgrew as Galina "Red" Reznikov, the Russian convict who mothers the other inmates a New York prison. She was nominated for an Emmy Award for the role which she reprises in the shows fifth season. Kate Mulgrew continues to act in television and stage. She has voice acted in animated shows and movies and voiced several documentaries.