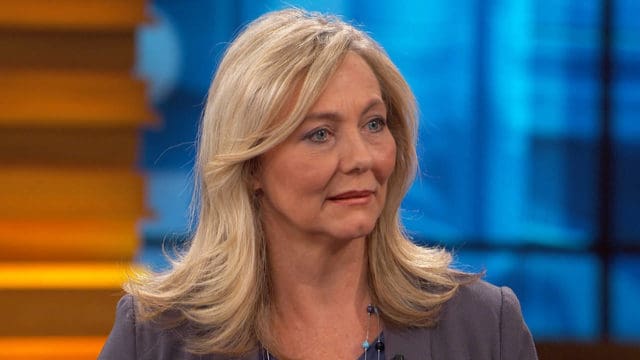 Jan Broberg is an actress, singer, and dancer. She was born in Pocatello, Idaho, on July 31, 1962. Her acting career consists of both roles in television series and movies. Broberg's first acting job was a 1992 television movie called 'In the Line of Duty: Siege at Marion' and she played the role of Heidi Swapp. Her most famous television role is playing the character Nurse Louise in the CBS series 'Everwood', in which she appeared in 32 episodes between 2002 and 2006. The movies for which she is best-known include 'Iron Man 3′, 'Slaughter of the Innocents', and 'Maniac'. She also appeared in the 2001 Disney Channel Original Movie 'The Poof Point'. Here are five more things you might not know about the actress Jan Broberg.
1. She Has Used Her Singing Voice for a DVD
Broberg is also a talented singer and she has used her singing voice in her career. She provided the singing voice for Uberta in the 2014 straight-to-DVD film 'The Swan Princess: A Royal Family Tale'. It is based on the story 'Swan Lake' by Pyotr Ilyich Tchaikovsky. This computer-animated family fantasy film was written by Richard Rich and Brian Nissen, directed by Richard Rich, and produced by Crest Animation Productions. Others who provided voices for this movie included Elle Deets, Yuri Lowenthal, and Joseph Medrano.
2. She was Allegedly Kidnapped Twice
Jan Broberg had a difficult time in her youth as she was allegedly kidnapped on two separate occasions. The first time she was kidnapped was when she was 12. She was kidnapped for a second time at the age of 14. The man accused of the kidnaps was Robert Berchtold, a man who had befriended the family. Berchtold has always denied these allegations even though he has been publicly named.
3. She is Also a Writer
Although she is best-known as an actress, Jan Broberg is also a writer. 'Stolen Innocence: The Jan Broberg Story' is a book she wrote about her personal experiences of being kidnapped that she wrote in collaboration with her mother, Mary Ann Broberg. Broberg also has one credit for writing a television short in 2013 called 'Jan Broberg's Guide to Thespians, Sociopaths & Scream Queens'.
4. She Has Worked on Stage
In addition to working in television and film, Jan Broberg has also performed on stage on many occasions and she has had starring roles in most of these productions. Some of her biggest stage roles have been in 'Carousel' at Idaho State University, 'Jayne Eyre' at the Glendale Center, 'The Sound of Music' at the Tuacahn Theater, and 'My Fair Lady' at Scera Theater. Other big stage productions in which she has performed are 'I Do! I Do!', 'Trixie True Teen Detective', and 'No No Nanette'.
5. She Has Several Alternate Names
Professionally, this actress is either known as Jan Broberg or Jan Broberg Felt. However, she also goes by a number of other names, both professionally and personally, and this is something that confuses other people. These alternative names include Jan B. Felt, Jan Gardner, and Jan Tanner. She is known to her friends as Jani.
Save
Tell us what's wrong with this post? How could we improve it? :)
Let us improve this post!