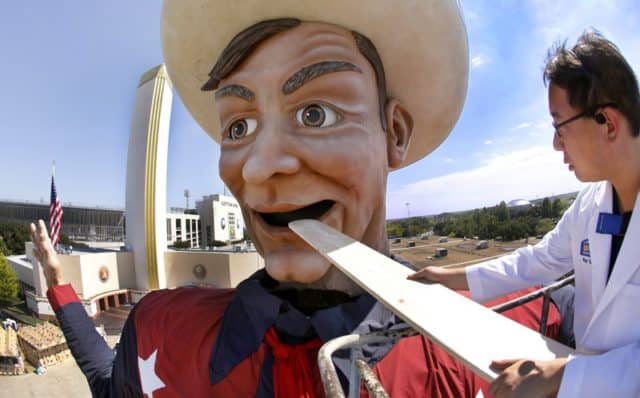 Giant America is a new series that has started up on the Travel Channel. Given its name, its theme should be obvious. However, it is interesting to note that it is also making an effort to bring in viewers through its choice of host. Here are five things that you may or may not have known about Giant America:
Hosted By Tom Green
Giant America is hosted by Tom Green. For people who are unfamiliar with that name, he is a Canadian comedian who became well-known because of a TV show called The Tom Green Show, which started up in Canada but managed to become successful enough to make a transition to the United States. With that said, while the series proved to be popular enough for it to continue running until Green was diagnosed with testicular cancer, there are a fair number of people with less than fond memories of it, as shown by its inclusion in at least one list of the worst TV shows to have ever been created. Besides this, some people might also remember Green because he was married to Drew Barrymore for a time, though that lasted for no more than a single year.
Features a Wide Range of Giant Things
Regardless, it should come as no surprise to learn that Giant America is focused on giant things that can be found in the United States. However, it is interesting to note that the TV show is interested in covering a wide range of giant things as opposed to sticking with a particular kind of giant thing. For example, Giant America covers huge attractions. However, it is interesting to note that it also covers huge food, which is perhaps unsurprising consider how often food factors into people's travel plans.
Interested in the Origin of Things
Much of Giant America is focused on how something came to be. For example, part of the TV show might examine how a particular attraction was built as well as how it became an attraction in the first place. Likewise, part of the TV show might focus on how a particular practice got started, whether that practice is a particular cooking method or something else altogether.
Covers Maintenance
One of the other interesting topics covered by Giant America is the maintenance of the huge attractions that are showcased upon it. This makes sense because said attractions need maintenance to ensure their longevity for the same reasons as other attractions. However, their sheer size presents additional challenges, which is why this is a topic that is interesting enough to be covered by the TV show.
First Episode Covered Big Tex
The first episode of Giant America covered Big Tex, which is a huge statue that serves as the mascot for the State Fair of Texas. Amusingly, it turned out that Big Tex actually started out as a huge statue of Santa Claus in a small town, meaning that its journey to its current state is actually an interesting story that was uncovered by the team behind Giant America and then covered upon it.