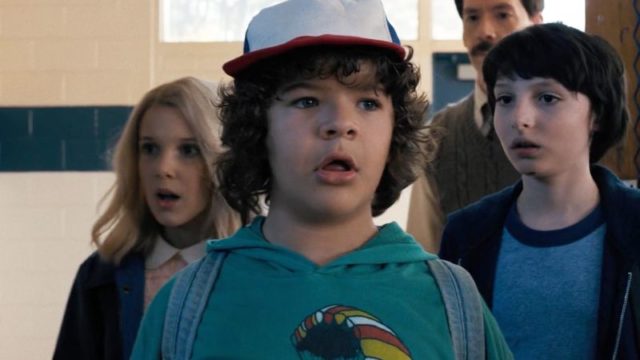 Gaten Matarazzo is a young American actor who was born in Little Egg Harbor Township, New Jersey, on September 8, 2002. He showed talent from a young age and started his acting career on the stage. He already has under his belt two roles on the Broadway stage; Gavroche in 'Les Misérables' and Benjamin in 'Priscilla, Queen of the Desert'. He is now best known for playing the role of Dustin Henderson in 'Stranger Things', aired on Netflix.
Here are five things you might not know about Gaten Matarazzo.
1. He Appeared in an Episode of 'The Blacklist'
Prior to being cast in the role of Dustin Henderson in 'Stranger Things', Matarazzo appeared in an episode of the NBC's crime thriller series, 'The Blacklist'. He played the role of Finn in Episode 71, 'The Kenyon Family', which was aired in 2015. This was his first role in television as his prior work was all on stage.
2. He Has a Condition Called Cleidocranial Dysplasia
Cleidocranial Dysplasia is a rare condition that affects the bones and teeth. As a result of suffering from this condition, Matarazzo has lost his teeth and was given the nickname 'Toothless' on 'Stranger Things'. The production team of the TV series has even written the condition into the script so the character shares the condition with the actor. When Gaten got false teeth for the first time, he proudly showed off photographs on Instagram and received an abundance of support from fans. Gaten also has no collarbones because of the condition.
3. He Was the First Child Cast in 'Stranger Things'
The production team of 'Stranger Things' wanted to get the casting just right. In fact, they auditioned over 100 kids before deciding on the final cast. Gaten Matarazzo was the first child they chose as they wanted natural performers who didn't have a lot of television experience. In the auditions for the boys, scenes from the 1980s classic, 'Stand By Me' were used before the children auditioned with dummy scenes taken from sections of the 'Stranger Things' script.
4. It Was Not Possible to Use Matarazzo for Post-Filming Dialogue
It is common practice in making a television series for a production team to record some of the dialogue post-filming. Unfortunately, it was not possible to do this with Gaten Matarazzo. As the filming took place at the stage in his life when Matarazzo was going through puberty, his voice changed significantly between the beginning and the end of filming. It was so different that the team decided it was better to not use him for post-filming dialogue.
5. Acting Runs in His Family
Gaten's parents are Heather and Gaten Matarazzo Senior. His sister Carmen has acted in commercials while his other sister, Sabrina, is both a singer and an actress. Gaten has said Sabrina is an inspiration to him and she is the reason he wanted to perform on the Broadway stage. Heather describes herself as a 'Broadway Mom' as she has continually supported all her children in their performing pursuits, even when Gaten was flitting between New Jersey and New York City to perform on Broadway.
Bonus – Great Singer!
Tell us what's wrong with this post? How could we improve it? :)
Let us improve this post!