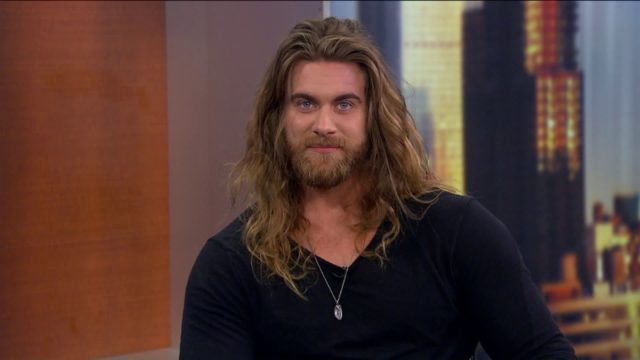 He might look like a big, long-haired hunk, but, well, he is really. At least that's how a lot of women have described this relative newcomer to the film industry. Brock hasn't done a lot of things worthy of note just yet, but he's poised so far to be placed on screen to see what he can do. In some ways he almost seems like a Jason Momoa clone, just less intense and a little more lean. But we'll get to see what Brock can do in the coming years no doubt, and if he has something to offer to the audience that we can't do without. It might be interesting to watch.
In the meantime, here are things you probably didn't know right off the bat.
5. He's very tall.
Brock stands at about 6 feet 7 inches, making him a very tall individual indeed. In Hollywood that would almost make him seem to be star material for at least five minutes, but the fact that there are so many big men that are good-looking and can actually act might make his physical attributes less than noteworthy. If he can act though, then you might be looking at a star in the making.
4. He's a relative newcomer.
His credits aren't non-existent but they aren't exactly overflowing at this time. He's still fairly new to the business since his earliest credited role came in 2016. Since then however he's been working to get his face on camera more and should have a fairly decent time of it simply because he is the type, at least by looking at him, that should be able to gain the attention of the audience.
3. He's all about simplicity.
This is refreshing really. You hear about so many actors both young and old that are so picky, demanding, and want things to be just the way they want or need them that it becomes bothersome to think of trying to please them. But simple is good, simple is workable, and simple can endear an actor to many more directors so it should be something that Brock strives to keep as his M.O.
2. He's a big Guns N Roses fan.
He's definitely got good taste in music. Whether he still listens to their old albums or not is something that isn't really known but the fact that he likes them is still a mark in his favor. The popular band has gained many fans in its long run and is still one of the more noted groups that is remembered fondly for their earliest contributions to the music industry.
1. He's kind of obsessed with pizza.
It's his favorite food, his comfort food, and the one food he's said that he can't live without. There's another mark in his favor because he has good taste and is definitely a cool guy. Pizza is one of those things that some people could take or leave, but for Brock it is an essential that he absolutely has to have. You've got to respect a guy for knowing what he likes.
Keep your eye on this guy, he seems to be going places.
Save