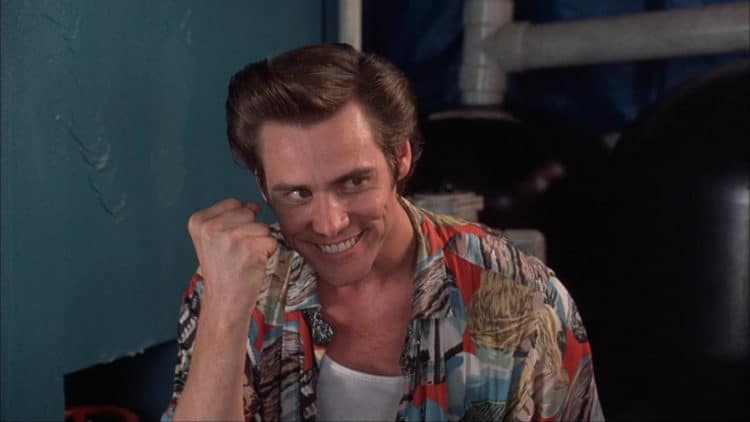 Comedians like Jim Carrey remind us of a simpler time where humor and silly antics are not overly-scrutinized. We live in a time where cancel culture is prevalent in many aspects of our lives, and this includes the jokes that are put out in public. It can feel like walking on eggshells at times, so it's only natural to look back on some good old school reprieve. Carrey's energetic slapstick performances were first recognized in the 1990's, and has remained to be a comedy classic. Physical comedy is not exactly a walk in the part, and Carrey has been committed to the process from day one. It was a shame to hear that the famed comedian planned on hanging up his acting boots and step away from the limelight. This calls for a movie night where we reminisce and re-watch Carrey's most well-loved portrayals. Here are five scenes where Jim Carrey proved that he is one of the slapstick comedy greats:
5. The Mask
The unconventional superhero comedy film was loosely based on the Masks comic books. It had Carrey portray the lead role of Stanley Ipkiss, a bank clerk who accidentally finds a green wooden mask that was revealed to hold some magical power when worn. The scene where Stanley puts on the wooden mask and transformed into The Mask, a green-faced troublemaker who had the ability to cartoonishly transform himself and his surroundings based on his liking, was most entertaining to watch. Stanley took advantage of his newly-possessed superpower by using it to take down criminals in the most animated and hilarious way possible.
4. Ace Ventura: Pet Detective
We did not have to be pet lovers to immensely enjoy this comedy film. Carrey portrayed the role of Ace Ventura, a loud-mouthed and unapologetic animal detective, who specialized in retrieving animals in captivity. The film followed his new mission wherein he was tasked to find Snowflake, the abducted dolphin mascot of the Miami Dolphins football team. Ace's unorthodox ways made him stand out from the rest of his colleagues. He refused to conform to society's norms, and this made Carrey's portrayal even funnier. Take for example the scene where Ace nonchalantly walked into the police station to get more information about Snowflake. He picked on a police officer for killing a cockroach, annoyed another one for classified information, and lashed out on a lieutenant in the process. Ace was one heck of a character, and there was no better actor to portray this colorful role than Carrey.
3. Dumb and Dumber
The buddy comedy is just one of those films you want to unwind to after a long and stressful day. It followed the friendship of two simple-minded people, Harry, portrayed by Jeff Daniels (The Newsroom) and Lloyd, portrayed by Carrey. The storyline revolved around the two friends' cross-country trip to Aspen, Colorado to return a suitcase they found that was filled with money. The banter between the two characters were always a riot. The scene where Harry and Lloyd picked up a hitchhiker whose car broke down showed what kind of chaos transpired whenever the best friends were together. What was supposed to be a pleasant road trip turned out to be a wildly annoying one filled with childish antics. It did not take long before the two drove the hitchhiker crazy. It was evident how much fun Carrey had with the character, which in turn created another memorable role to remember him by.
2. Me, Myself & Irene
We saw another side of Carrey in the black comedy when he portrayed the role of Charlie, a state trooper who suffers a psychotic breakdown after years of suppressing emotions, which then resulted in the development of a rude and violent second personality, in the persona of Hank. This led Charlie's commanding officer, Colonel Partington, portrayed by Robert Forster (Olympus Has Fallen), to take it easy and take on an easier task, which involved Charlie to escort a beautiful woman named Irene, portrayed by Renée Zellweger (Bridget Jones's Diary) from Rhode Island to New York.The scene where Charlie had an adverse reaction to the medication he was taking while he was with Irene showed Carrey's wide comedic range. Leave it to Carrey to astound us all with his animated expressions that don't need any CGI.
1. Bruce Almighty
The fantasy comedy featured an inventive storyline and an all-star ensemble. Carrey portrayed the role of Bruce Nolan, a television reporter who hasn't gotten the best luck in life. This leads him to voice out his concerns to to God, which was voice acted and portrayed by Morgan Freeman (Invictus), who then offered Bruce the chance to take on his role as the all-knowing and almighty for a week. The scene where Bruce realized his newfound power was a highlight of the film. He was now able to have the world in the palm of his hands, and the opportunities were endless. Carrey applied his unique sense of humor in his character shift from a beaten down employee to a powerful God, and it was a delight to witness.