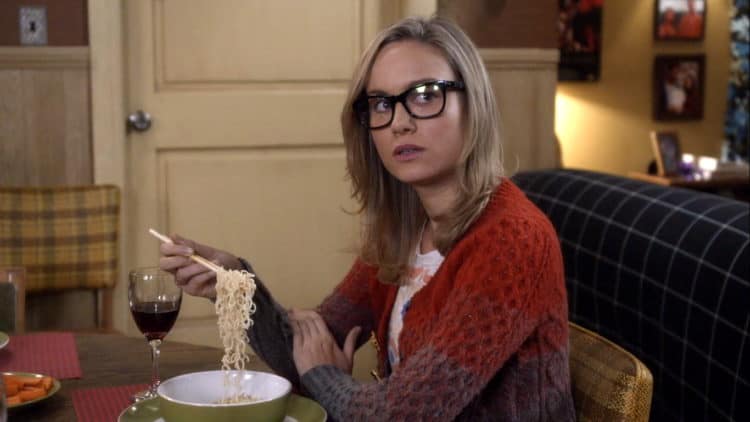 Over the last several years, Brie Larson has become one of the biggest names in the entertainment industry. Since being cast as Carol Danvers / Captain Marvel Brie's career has reached new heights and she is now known to people all over the world. However, like many other actors, Brie's journey hasn't been easy. She entered the business in the late 1990s and it took a few years for her career to start gaining traction. As a result, there are quite a few roles that Brie played early in her career that have since been forgotten about. While none of these roles will go down in history as her best-known projects, they have all played an important part in her journey. Here are five roles you totally forgot Brie Larson played.
1. Rachel in Community
During its run from 2009 to 2015, Community was arguably one of the most popular sitcoms on TV. The show centered around a former lawyer named Jeff Winger (Joel McHale) who is disbarred after it is revealed that he lied about having a bachelor's degree. He enrolls in a community college where he starts a study group in hopes of getting close to a girl he likes. Brie appeared on three episodes of the show between 2013 to 2014. Her character, Rachel, was a coat check girl at one of the school dances. During an interview with Uproxx, Community's creator, Dan Harmon, spoke about Brie's time on the show. He said, "she [Larson] was magical in her appearance in the fourth season. She doesn't even say anything. She might as well be a pair of glasses and a wig on a mop handle, but it"s Brie Larson so she has this humanity, this energy coming off."
2. Lily Quinn in To Have & to Hold
If you were around during the late 1990s, you may remember a short-lived TV series called To Have & to Hold. The show starred Moira Kelly as an attorney named Lily Quinn. The series followed Lily and her husband's, Sean (Jason Beghe) married life. Brie was in two episodes of the show, and it marked her second on-screen role. Little did anyone involved with the show know, Brie would eventually become one of the entertainment industry's hottest stars. Unfortunately, however, To Have & to Hold was canceled after just one season.
3. Ashley in The League
Like Community, The League is another awesome sitcom that aired from 2009 to 2015. The series centered around a group of friends who were heavily involved in a fantasy football league. The group tries their best to balance the league with their daily lives, but it eventually proves to be very difficult. Not only does their participation in the league start to impact their personal lives, but it also starts to affect things at their jobs. In addition to featuring guest appearances from lots of professional football players, the series also had a guest appearance from Brie Larson. She appeared in two episodes of the show in 2011. At this time, her career was just starting to gain traction. The following year, she would appear in the movie.
4. Krista Eisenberg in Ghost Whisperer
Starring Jennifer Love Hewitt, Ghost Whisperer was a TV series about a woman named Melinda Gordon who had the ability to talk to dead people. During each episode of the show, a new ghost seeks out Melinda's help in hopes that she will be able to help them settle their unfinished business so they can finally find peace. Melinda is often tasked with finding out exactly what happened to the ghost and she always relays a message to the deceased person's loved ones. Brie appeared in one episode of Ghost Whisperer during season three as a character named Krista Eisenberg. At the time, no one really knew who Brie was so her work in the show didn't get much attention. However, if you're a Brie Larson fan, you may want to go back and check out the episode.
5. Six Chick in 13 Going on 30
13 Going on 30 is probably one of the most memorable movies from the early 2000s. The film is about a 13-year-old girl named Jenna Rink (Jennifer Garner) who magically becomes 30 overnight. Although becoming an adult initially seemed like the answer to all of her prayers, she quickly learned that being a grown-up isn't all it's cracked up to be. Brie had a small role in the movie as one of the Six Chicks and many viewers may not have even realized that she was in it. Mark Ruffalo, who played a starring role in the movie, would eventually become Brie's co-star in the Marvel Universe.
Tell us what's wrong with this post? How could we improve it? :)
Let us improve this post!