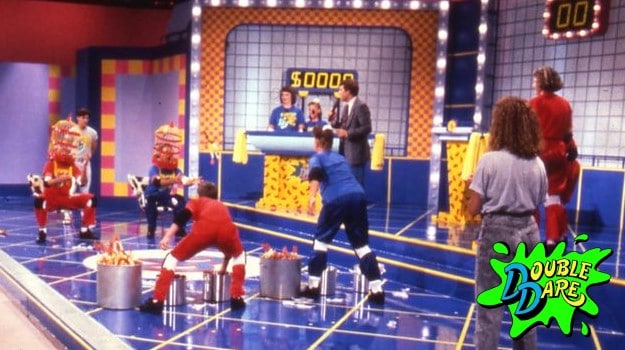 Nickelodeon is making a big push to bring back some nostalgic moments from their past and Double Dare is one of the fan favorites that will be coming out this summer. If you can recall the show it was one of the craziest and educational programs on Nickelodeon at the time and was a favorite of many kids that enjoyed watching the contestants perform the dares and make their way throughout the famed obstacle course. Now that it's coming back one has to wonder just how crazy it's going to get in the modern age to keep people interested and to make the challenges even more entertaining.
Just in case you didn't get to watch the show, here are a few clips to show you what to expect.
5. Family Challenge
A lot of the challenges involved people getting covered in something but thankfully it was all in good fun since the substances or items were stuff that could easily get cleaned off. Plus with the family challenges it was fun since the kids and the parents got to douse each other often and there was no reprimand since everyone was just there to have fun and win prizes. Hopefully the family challenge will come back as well.
4. The Splat
The obstacle courses were always a lot of fun to watch since they tended to break out some of the zaniest and most fun-looking obstacles that could be conceived of. As a kid it was often a dream to think about just what might happen if you were ever allowed to be on the show and how fast you could possibly run that course. A lot of kids believed they could do it in record time, but with the slick stuff that was used on some of the surfaces it wasn't all that easy to move it seems.
3. The Dad Wash
https://youtu.be/PTYpSEzWlmA
One thing about Double Dare is that it was a lot of fun but a lot of people didn't get to see how many takes that were really required sometimes. What finally makes it to TV is the stuff that has no glaring errors and is the product of finally getting through the course in a decent amount of time so that people at home can believe that the contestants didn't have as much trouble as it might seem. It's fun to watch but it still needs to be realized that it's not as easy as it looks.
2. Obstacle Course
It's not really known who's going to be the host yet but if it's Marc Summers let's hope that he's a little more psyched about it than he seemed at times for the original show. He did his best to stay upbeat and keep his attitude as positive as possible, but it seems as though he started to wind down eventually. It is a lot to deal with honestly, but at least he managed to put some effort into it most times.
1. Sliming Dad
Now who wouldn't want to slime their parents? This poor guy signed up for this obviously but that slime just keeps coming after the initial dump it seems, as though being splashed with goo wasn't enough, he has to be drowned by it too. But hey, it was all in fun.
Look for the show to come back this summer, it should be a gas.