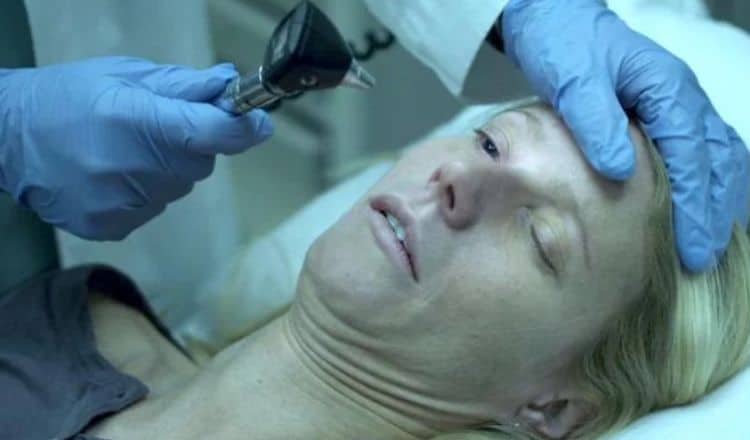 The Coronavirus, originating in China, has spread quickly throughout the world in the past two months, infecting thousands of peoples in tens of countries and killing hundreds more. The City of Wuhan is in quarantine, borders have been closed and the World Health Organisation has declared an international emergency. Despite the fact the kill rate of the virus is pretty low – acting like a particularly aggressive flu – people are panicking with the world's stockpiles of face masks quickly selling out.
If it all feels like something out of a science fiction film, that's because we have seen many of these images before. Pandemics – characterised as global crises as opposed to epidemics, which are local crises – are one of the many ways that the world could potentially end, making it ripe material for nihilistic or civil-minded storytellers. From seasoned blockbusters – such as gory zombie films – to hard science portrayals, we have compiled a list of five great pandemic films for you to watch. Read on below to see what we have picked.
28 Days Later
Zombie films express the fear of pandemics metaphorically through the spread of undead flesh. Worries about human touch manifest themselves through violent biting, with everybody around a potential infector. Danny Boyle's 28 Days Later is a great case in point, portraying a world ravaged by paranoia and decay.
The opening scenes in particular capture the eerie nature of emptied cities, with its protagonist walking around a version of London with no people in it. These bring to mind reports of Wuhan being an empty city, citizens staying locked up in their rooms just in order to avoid infection. Tellingly, the greatest fear later in the film is not the zombies themselves, but the way humans react to them; showing how often the reaction to disaster can be just as bad as the disaster itself. For further watching we would recommend World War Z, starring Brad Pitt as the only man who can save humanity from itself.
12 Monkeys
What happens after a virus has wiped out most of the earth? How does humanity adapt? Terry Gilliam's 12 Monkeys, set in 2035, is a particularly dark vision of the future; seeing humanity living in an underground compound, its strangeness stressed by tilt shots and wide angles. Bruce Willis plays a prisoner named Cole, sent back in time to the 90s to try and locate a sample of the virus in its early form, so the scientists can create a cure.
A fantastic meditation upon free will, time travel and the hope for humanity, 12 Monkeys is characterised by its sweaty central performance by an earnest Bruce Willis, making it as engaging as it is philosophically and sociologically prescient. Here the scientists have become the leaders of the world; able to enforce their iron will upon a downtrodden subclass. Despite being exaggerated for effect, this seems particularly prescient; with the recent news showing that countries, especially China, on advice from Public Health experts, are able to control vast swathes of people who basically do not have a choice.
Contagion
Possibly the most realistic portrayal of how the world would respond to the outbreak of a deadly virus, Steven Soderbergh's Contagion uses its unique hyper-link structure to chart a disease's spread throughout the planet. Writer Scott Z. Burns was really striving for accuracy here: inspired by both the 2003 SARS epidemic and the 2009 Flu pandemic, he consulted with medical experts and representatives of the World Health Organization. The result is the closest thing you will get to watching today's outbreak on TV, although we hope it won't be as severe!
Many elements that we have seen recently in the news are portrayed here: the way the spread of disease is exacerbated through international travel; the need to locate the virus to create a vaccine; the decay of civilised society in the fear of panic; and the government's ability to create large camps and hospitals in such a small space of time. More eerily, Contagion identifies the disease as coming from a bat in China; much like reports coming out of China that the coronavirus spread from the sale of wild animals. Yet the most important lesson here is to always wash your hands with soap!
Epidemic
One of Lars von Trier's earlier films, the second film in his Europa trilogy, released in 1987, Epidemic takes a metafictional approach to the virus genre. Two plots interweave: one is the story of two screenwriters writing a script about an epidemic, the second is that story itself interweaving with the main plot.
An experimental black-and-white film starring Lars von Trier himself as both himself as a screenwriter and Dr. Mesmer, a doctor trying to help people infected, it showcases the Danish director's obsession with a world coming apart at the seams; motifs that would be later expressed in TV series The Kingdom and films like Dogville and Melancholia. Definitely the most unconventional pandemic film on the list, it is a must watch for fans of von Trier.
The Andromeda Strain
Based on the novel by Michael Crichton, The Andromeda Strain imagines what would happen if a pandemic came from above; elevating one's fear of the other through the alien invasion genre. The film stars Arthur Hill as Dr. Jeremy Stone, a man tasked with recovering a mysterious satellite that has wiped out a small town. Upon arriving in the area, they discover a secret alien organism that can kill animal life almost instantly.
A classic example of hard '70s sci-fi, the film was praised for its clinical approach to a potentially deadly disaster, cleverly exploring if scientific interaction with diseases could actually make it worse. It makes the case for extreme caution in the face of a pandemic as its impossible to clearly know the right steps to take. In this respect, pandemic sci-fi often offers us a blueprint for how to deal with such crises, and more importantly, what not to do in a crisis.