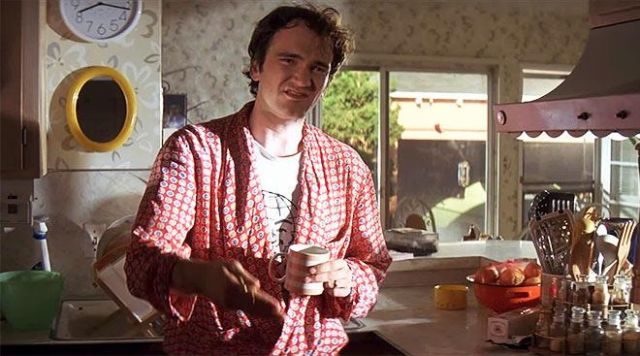 Quentin Tarantino is a funny guy but it tends to be obscure and dark humor that he works with more often than anything in movies. Really the guy seems to be on another level when he's acting and doesn't always seem capable of being innocent with his comedy no matter how much he tries. That's what a lot of people tend to love about him too, since he doesn't make apologies and he doesn't stop just because people are uncomfortable. His type of comedy is meant to slap you in the face and wake you up a bit. After all he's not a comedian so much as he is a guy that tells you how it is and how he sees it.
If you don't like his brand of humor you don't have to watch, but somehow it's kind of entrancing.
5. Little Nicky
His part is pretty short in this movie and yet it's also a good foil for Little Nicky since he happens to be the devil's son after all. The preacher is a rather unstable character that is still able to sense the evil in Nicky no matter how much the third son of Satan is so unlike his brothers. Of course that's bound to happen I guess in the unlikely event that your dad's the devil and your mom is an angel.
4. Desperado
This role is blissfully short and funny since he gets to tell a joke before his pal gets his face caved in by a bullet. Cheech Marin looks less than amused however at the attempt Tarantino is making at humor but at least plays along until it's time to see just whether or not the guys that step up to the bar are trustworthy. It's not too long after this moment that he meets his end behind a filthy bathroom stall.
3. Death Proof
Warren was kind of a side note to this film and is the kind of guy that wants to have shots with you and talk your ear off while making lame, corny jokes that you might laugh at out of kindness. He's not the guy you want to upset since he's the bartender and could very well say that you're cut off if you make him mad.
2. From Dusk Till Dawn
Before it was a TV series and a couple of ill-advised sequels From Dusk Till Dawn was a cult classic in which George Clooney was awesome and Quentin Tarantino was just flat out crazy. Seriously, Richie was just nuts with a capital N. The only bad part is that he never wanted to control it unless his brother was around, and he still didn't back down to his brother all the time, as this clip proves.
1. Pulp Fiction
Poor Jimmy. Nothing happens to him or anything, but he certainly wasn't expecting two killers, one of whom is his ex-partner, to come rolling up his drive one morning with a dead man in the back of the car and a mess that needed to be sorted out. Obviously Jimmy used to be in the same line of work, since the idea of getting rid of a dead body isn't freaking him out so much as what his wife will say if she sees it.
He's funny, but a different funny.
Tell us what's wrong with this post? How could we improve it? :)
Let us improve this post!