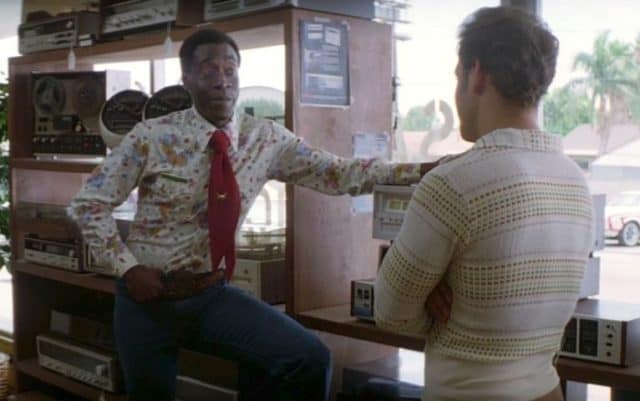 Don Cheadle is not the kind of guy you look for a funny scene right off the bat. He's been in some of the greatest dramas and also been something of a tough guy throughout his movies but he's also been the lawman, the diplomat, and the soldier. Apart from that he has had his funny moments that are genuinely funny and don't seem to be disturbing in the least when you think about it. Other actors you have to find a way to be objective and really look at their material to see if it's really that funny or if it's so disturbing that it can be amusing at least, but Don Cheadle definitely knows how to lay down a wisecrack when he needs to.
Here are a few good examples of this.
5. Boogie Nights
He really doesn't sound like he knows what he's talking about and yet he's the employee of the month at this place. The standards for that particular title must have been something a lot different back in those days. But one thing he seems to know is the value of bass, it's just too bad he doesn't seem to know what good music is or how to really secure the sale.
4. Iron Man 2
All those bells and whistles make War Machine look like a genuine threat but he's definitely not quite the match for Iron Man, who is a genius in a suit and not just an exceptional soldier. If you put them together as a team though they might be unstoppable if they could eventually get on the same page. That alone might take more effort than is really possible.
3. Captain America: Civil War
Even being partially-paralyzed doesn't dampen Rhodes' spirit completely since he busts out the affirmation of Tony Stank pretty quickly and with at least some fervor. You can always count on Stan Lee to show up in a Marvel movie and you can also assume that it will be a funny moment. Don Cheadle just managed to get in on one of the good ones and make a fun contribution.
2. Ocean's Eleven
"You tosser! You had one job to do!" Basher was one of the more fun aspects of Ocean's Eleven that was introduced fairly early and was a really great addition. His skill set and his attitude brought a lot to the movie and helped to offset some of the others in the group. There's no doubt that he was an important part of the group but he tended to be kind of a controlled kind of nut, which worked to the groups advantage.
1. Ocean's Thirteen
Pitting the group against Al Pacino was one of the best ideas ever, even if people didn't take to this movie all that well in comparison to the other two. Don Cheadle kind of had to step up and take a much more prominent role as Clooney and Pitt kind faded into the background just a little. That's perfectly okay though, he handled it just fine.
He is funny whether you know it or not.
Tell us what's wrong with this post? How could we improve it? :)
Let us improve this post!