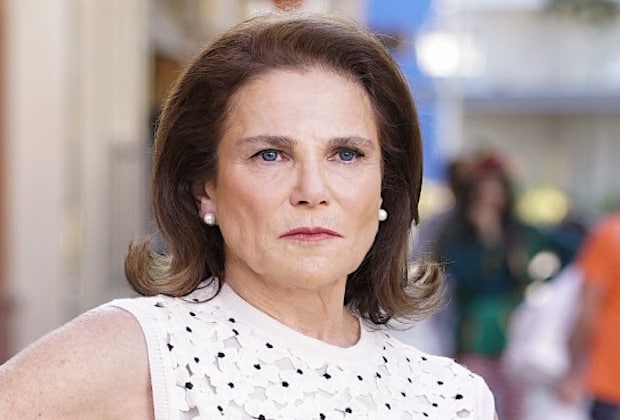 Having been a Broadway star for more than four decades Tovah Feldshuh, real name Terri Sue, obviously knows what it takes to get along and work her way through the business. She's been acting for so long that you would think that most people would know who she is without fail. But unless you watch anything she's been in such as The Walking Dead where she played the leader of Alexandria up until her death, then you might be at a loss. She's done a great deal with her career throughout the years and has managed to establish a legacy that includes a great many credits. As one of the veterans of Hollywood and the theater Tovah is someone that's earned her respect whether people recognize her or not. She's certainly done more than enough to earn it throughout her career.
Here are some of the movies that helped make her career what it is today.
5. Kissing Jessica Stein
A woman that's having a problem finding a relationship or even just getting a date decides to take her interests a little further than she would have normally allowed and in doing so finds that she's no longer sure just which side of the supposed line that she wants to be. On one hand she meets a very nice woman that is willing to take things slow and allow a relationship to develop, but she also meets a very nice man that she seems to be falling for. This movie highlights the difficulty that comes with dating, relationships, and trying to find out just where each person belongs when it comes to such concepts.
When Brewster stands to inherit a fortune there's only one catch, he has to spend $30 million dollars in 30 days or he gets nothing. So you can imagine the hilarity that ensues when he starts throwing money left and right in an effort to blow it all on just about anything and what might come of this. People tend to fly out of the woodwork when there's money involved and all sorts of folks will do just about anything to get their hands on even a piece of the kind of fortune that Brewster stands to inherit. The only trouble is knowing who to trust and who to stay well away from.
3. A Walk on the Moon
This movie would be a great take on teenage pregnancy to show high school kids, as the lead female character gets pregnant when she's 17 and has to pretty much miss out on a lot of her younger years to raise her daughter. As time goes by however she gets a little melancholy thinking about it since she never got to experience the act of growing up after getting pregnant. When she begins having an affair however it starts to mess with her family more than a little as her daughter catches her, her mother tells her to break it off, and her husband confronts her about it in an effort to get her to make the right choice. Thankfully she chooses her family.
2. Lady in the Water
When a mysterious woman is found in the pool of an apartment building strange things begin to happen, and eventually many of the residents are pulled into the middle of something that they can't understand but can no longer deny. The strange woman is at the center of the happenings it would seem and as the story progresses the residents learn that several of them have a role to play in her survival and in the narrative that will see both her and another resident change their respective worlds. It wasn't thought of as much of a movie but if you follow the story then it becomes something quite special.
1. Silver Bullet
So yes, this is another werewolf movie, but one that has it's own twist since it's about the two siblings in it as well and how well they relate to one another. The werewolf in question turns out to be the town reverend and somehow he manages to justify why he's killed so many people. What he can't justify however is that he seems to enjoy the change and the kind of power it brings him. As the werewolf continues his rampage about town however one young boy discovers the secret he's hiding, and in doing so discovers just what he needs to kill the beast, bringing an end to its rampage.
Tovah isn't exactly one of those actors that manages to gain a lot of attention on the screen, but she's been well-known in the theater for some time and has made the transition to TV as well. So far her career has been pretty successful and it seems that this will continue for as long as she wants it to.
Tell us what's wrong with this post? How could we improve it? :)
Let us improve this post!