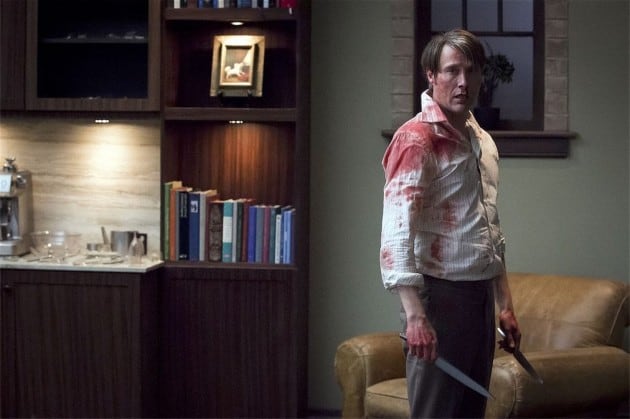 Since April 4, 2013, Bryan Fuller's Hannibal has been an absolute dream for millions of people around the world. What started off as an ill-advised adaptation of one of the most famous characters in literature and film has blossomed into what is perhaps the most well-crafted television series in history. An elegant horror masterpiece, Hannibal keeps fans on pins and needles in anticipation of the next episode every single week.
Ahead of the Season 3 premiere on Thursday, June 4, here's a look at what I think are the best episodes of Hannibal (so far).
SPOILERS for Seasons 1 and 2 of Hannibal Follow: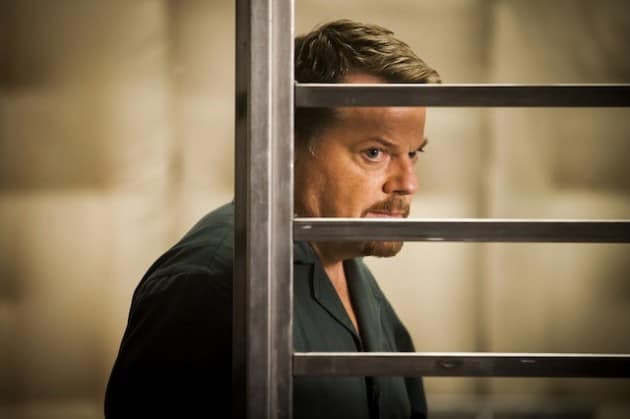 5. "Entrée" (Season 1, Episode 6)
"Here we are, a bunch of psychopaths helping each other out." – Freddie Lounds
For the first few episodes of Hannibal, the show played as a killer-of-the-week detective drama. It was still expertly crafted, and the cases were always incredibly interesting, but, other than the caliber of writing and design of the show, there wasn't all that much to distinguish Hannibal and set it apart from similar shows on television. That changed in the sixth episode, "Entrée," as the show moved more and more into serialized storytelling. There was still a weekly case, at least in the first season, but everything began building to a single story with the introduction of Miriam Lass. While audiences knew who and what Dr. Hannibal Lecter was, it was at this point in the show that his level of sociopath began to become a major focus of the story. While that is plenty to make "Entrée" stand out, this episode also functioned as an homage to The Silence of the Lambs, even going so far as introducing Raúl Esparza as fan-favorite Dr. Frederick Chilton. Later episodes would do wonders for these two new characters, but "Entrée" laid the foundation for everything that followed, even continuing into the second season.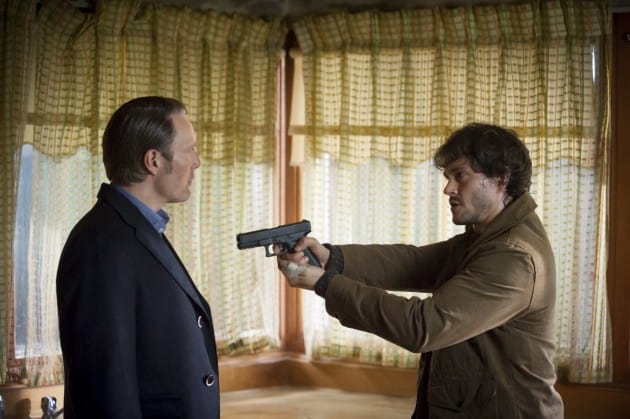 4. "Savoureux" (Season 1, Episode 13)
"Wind him up and watch him go. Well apparently, Dr. Lecter, this is how I go." – Will Graham
Throughout its run, Hannibal has methodically broken the hearts of fans through the terrible things that characters have had to endure. We always knew that Will Graham would have to find out somehow that his new friend is a killer, but I don't think that anyone expected it to happen this way. It is unclear until the next season just exactly how Hannibal framed Will for the murder of Abigail Hobbs and the others, but the scenes showing the results of the framing, along with Alana's reaction, are enough to make even the staunchest viewer tear up. The final scene of the episode, showing Dr. Lecter visiting Will in the hospital that he, too, will eventually call home, is one of the single best scenes from the series's run, and the cliffhanger ending ensured that fans would live in anticipation of learning how things would continue.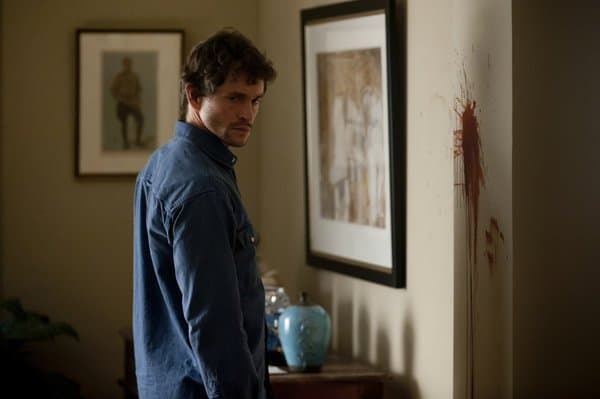 3. "Apéritif" (Season 1, Episode 1)
"This cannibal you have him getting to know…I think I can help good Will see his face." – Hannibal Lecter
When Hannibal was first announced, many feared that the adaptation of this story was ill-advised. When it was revealed that (in the beginning) it would be a prequel to the stories that most fans know, the decision was ridiculed. The only saving grace for many people was the knowledge that the show would be in the hands of Bryan Fuller, a cult-favorite creator best known for his work on Heroes, Wonderfalls, and the cancelled-much-too-soon Pushing Daisies. Thankfully, all of the wariness that came with the series faded away after the first episode, "Apéritif." The show's pilot showed us all that there is so much more room than expected to explore the relationship between Will Graham and Hannibal Lecter, and that any changes and expansions to the mythos would fit well in the new-but-familiar world that Fuller has created. His attention and dedication to providing a faithfully original take on the famous characters has led to more than any preconceived notions could have allowed, and the television landscape is all the better for it.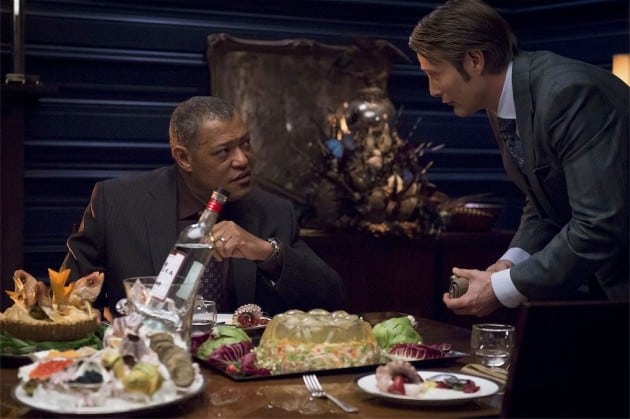 2. "Tome-wan" (Season 2, Episode 12)
"I'm full of myself!" – Mason Verger
A lot of you may read this entry on the list and ask "why would 'Tome-wan' be so high?" While undoubtedly one of the better episodes of Hannibal, this one ranks so highly in my mind because of, honestly, the final act. Of the films, Ridley Scott's Hannibal is, without a doubt, my least favorite. As flawed as it is, though, I think that it did a spectacular job with the character of Mason Verger, played in the film by Gary Oldman, even if they did leave out one of the most important aspects of his story (i.e. his sister Margot). Since the beginning, we knew that the TV series adaptation would eventually catch up to Red Dragon, and the one thing about Hannibal Lecter's backstory that I wanted to see more than anything else was his history with Mason. Luckily, Michael Pitt's Mason Verger lived up and surpassed every hope and expectation that I had. In the span of just a few episodes, Mason became more of a sadistic villain than even Hannibal himself, and all of the buildup of his character came to a head at the end of "Tome-wan." I honestly didn't expect the adaptation to be as faithful as it was due to the nature of how Mason gets in the condition that he's in during the events of the film, but the final act of this episode featured some of my favorite moments from the entire series, and I can't wait to see what happens with Mason in Season 3 (although the character has been re-cast with Joe Anderson, known recently for his role in Horns).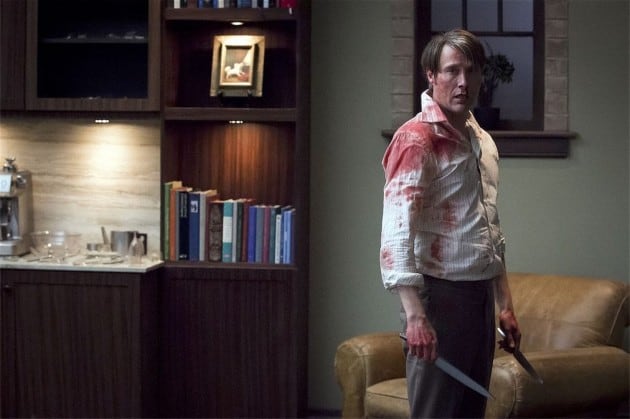 1. "Mizumono" (Season 2, Episode 13)
"This is the clearest moment of our friendship." – Jack Crawford
Finally, the big one. There's really no other choice in my mind for the best episode (of the first 26) of Hannibal. The finale of Season 2 was truly a finale to the first two seasons as a whole. Every character progression, every storyline, every single piece of buildup lead to the final moments of "Mizumono." And what final moments they were. Leaving almost every single character on the show begging for life was the gutsiest way of ending a season, and the epilogue of Hannibal getting away scott-free was just icing on the cake. So many emotions were present during "Mizumono," and I don't know how your heart couldn't break during the conversation between Hannibal and Will as the former attempts to gut the latter. While we now know who survives and who doesn't from the first look at Season 3 released last week, we were truly put into an odd position of wondering if any characters other than Will and Hannibal would make it to the next season, especially considering how willing Bryan Fuller has been to change major character aspects in his adaptation. As heartbreaking as many episodes of Hannibal have been through its first two years, no other episode comes close to what "Mizumono" is able to accomplish.
What is your favorite episode of Hannibal so far? Let us know in the comment section below, and don't forget to tune in for the Season 3 premiere on Thursday, June 4, at 10/9c on NBC.
[Photos via NBC]