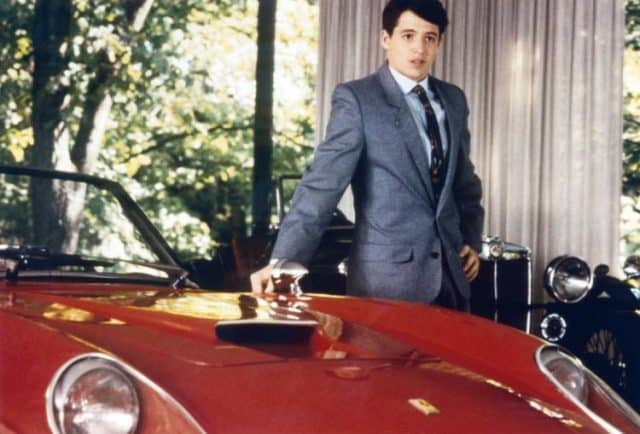 If you're driving one you're the envy of the road. If you're not, then you're the person envying the person who is. The Ferrari is without any doubt one of the most glamorous vehicles on the road in most areas. In some it might seem overdone simply because too many people have too much bloody money. But let's get back to the article, a Ferrari is an impressive machine and seems to glide down the road when it's in motion. For reason alone it seems more than reasonable to put it into one film after another in its various different forms.
It's like watching the product of elegance and power on wheels.
5. National Lampoon's Vacation – Ferrari 308 GTS
Eyes on the road Clark. He's got a hot wife and a decent family, but that doesn't stop Clark Griswold from being distracted by the flash of red that sparks on the horizon. Once it speeds up he of course notices the flirty blonde sitting in the driver's seat. Who wouldn't? As she toys with him on the road you can't help but wonder if he's even aware of how goofy he looks.
4. The Rock – Ferrari F355 Spider
Such a shame that such an awesome car chase has to end in such a tragic way. Oh no, no one got killed or even hurt that bad. The trolley drive wasn't too happy to be honest, but I doubt that the owner of the Ferrari was too pleased when they finally found it flattened like a pancake beneath one of San Francisco's most noted forms of transportation. Somehow I don't think the FBI would be too pleased to receive this kind of bill, regardless of their budget.
3. Goldeneye – Ferrari F355
Fast cars and dangerous women seem to go together at times. It's not that odd to think about really considering that the danger quotient is so immeasurably high with both of them. Onatopp isn't afraid to take things to the limit as much as possible, which is good because neither is Bond. If not for her propensity to crush men between her thighs like a human nutcracker, really no pun intended, they might make the perfect couple, at least for a short while.
2. Scent of A Woman – Ferrari Mondial t Cabriolet
Keep in mind, this was Charlie's call. He wanted to get Frank up and moving, he just didn't think it through all that much it would seem. When a blind man who is used to getting what he wants, some of the time, is put behind the wheel of a magnificent beast such as a Ferrari, then you'd be better just to strap in and give him directions rather than try to play it safe. Did Charlie think that Frank was just going to go along for the ride like a good boy? If so he wasn't paying attention for the first half of the film.
1. Ferris Bueller's Day Off – Ferrari 250 GT California Spyder
I have to say I think Cameron did the right thing. Go on and get your jabs in but when a man loves his car more than his family it means he really hasn't grown up much. This car is beautiful, it's a marvelous machine that should be prized but also enjoyed. This I think is the problem with fine cars such as this, too many people are afraid to even breathe on them let alone enjoy them. Good job Cameron, but you might want to lay low for a while.
Ferrari's are stylish in a way that defies easy explanation. But, and get ready for the blasphemy, when all is said and done they're just another car.
Save
Tell us what's wrong with this post? How could we improve it? :)
Let us improve this post!