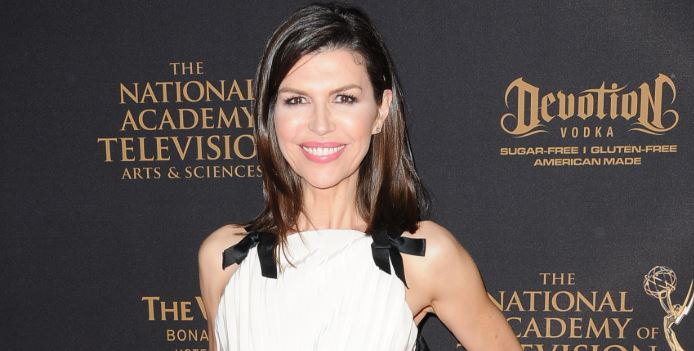 General Hospital fans have a very loving relationship with the lovely Finola Hughes. She's a famous soap opera face, she's funny, and she's good at what she does. She's also not the character she plays, but it's easy for us to forget that. She's someone we enjoy watching regularly, and we never grow tired of her no matter how many years she's been on television. That means it's time for us to learn a few things about her we did not already know.
1. She's English
The very lovely Finola Hughes was born in London, England. She was born in 1989, just two days prior to Halloween. It's why she has such a beautiful accent, though she doesn't always use it when she's acting. Sometimes people are surprised to learn she's English.
2. She's A Woman of Many Talents
Not only is she a famous and very talented actress, she's also an amazingly talented writer, entrepreneur, and many other things. She's a television host, a dancer, and she's got a great ability to write. In fact, we aren't sure she's not good at anything.
3. She's a Cat
She is the woman behind Victoria the White Cat in "Cats". It's a production created by Andrew Lloyd Webber. She originated the role in the early 80s, and she made it famous. How amazing is that to be able to tell your kids and one day grandkids?
4. She's A Married Woman
She married her husband, Russell Young, back in 1992. The couple steps out together for her work, for their charitable events, and for more. They have a beautiful life together, but they try to keep the rest of it as private as possible. They love going out together, but they don't spend time in the tabloids or causing drama.
5. She Has One Biological Child
When she and her husband wed in 1992, they were childless. They welcomed their son, Dylan, after 8 years of marriage in 2000. They only had one biological child, but we can't say why. We can assume it might be because she was 41 when she had her first, and we know it's not always recommended, safe, or possible to have babies biologically depending on your body after a certain age. However, we just don't know.
6. She's Adopted Two Children
We do know, however, that she and her husband certainly did want more kids. They may have decided not to have their younger kids biologically because of medical reasons or because they simply wanted to give a loving home and be a loving family to children without. They adopted their son Cash when he was born in 2005, and their daughter Sadie when she was born in 2007.
7. She's A Duel Soap Star
She began the role as Anna (and her evil twin, Alex) on General Hospital. However, her character was rolled over into the All My Children land at one point, and she spent some time there playing the same character(s). She's just that good at what she does.
8. She's An Emmy Winner
She's been nominated many times, but it's only given her one Emmy. She won for Outstanding Lead Actress in a Drama Series in 1991 when she was on General Hospital. However, she's been nominated a total of seven times, once for her role in All My Children.
9. She's Good Friends with Kelly Ripa
She and Kelly Ripa worked together for many years on All My Children, and they are quite friendly as a result. They often joke together when Hughes appears on Ripa's talk show, Ripa hosted her book launch, and they seem to have fun with one another on social media. It's just like Kelly Ripa met so many people she loves on that show.
10. She's Starred with Some Famous Folks
Did you know Hughes was in the sequel to "Saturday Night Fever," with John Travolta? She was, and she was good. She's so good that she can star with some of the biggest names in the business and still move on with her day like it's no big deal. She's a professional, so it probably isn't a big deal — but we think it's a seriously big deal to get to star with John Travolta in anything!