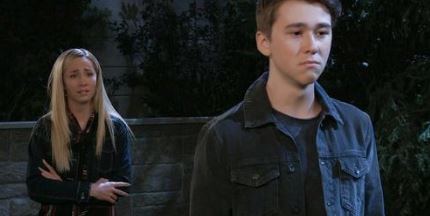 General Hospital fans don't feel a lot of surprise that Jason is siding with Carly on things. There is little that we can do other than sit back and realize that this is the reality of so many things. There are so many people who do side with her, but her family still isn't sure that she's on the right page with the way they are feeling about things. So she's sitting back making plans and saying what she wants to see happen and how she feels, and they are there making sure that she doesn't get what she wants from any of this. Jason, on the other hand, is always on her side. That's her very best friend, and she will always have his support.
Oscar had a long day at the hospital, and it started with Liz. She was there for him when she needed to be, and he is going to feel a bond with her. She's good at what she does, she's honest with her patients, and she's not looking to make any mistakes with his treatment. Even if his own mother is unsure what she wants her son to know, Liz will not keep things from her patient because his mother asked her to. She is honest and upfront with her patients, and that's why she's suddenly got his trust in her life. There is a lot she is good at doing, and this is one thing that really does work for her in that manner. They have a lot to work on with his parents and their decisions, but Liz is there for him when no one else seems to know what to say or do around him. She's a good person to have on his side.
What's Happening on General Hospital
I'm not a doctor but I play one on TV. But you better believe Dr. Terry Randolph is going to do everything in her power to save Oscar, yes! https://t.co/XsOhnoYFHR

— Cassandra James (@cassandrajames_) October 9, 2018
It turns out there is a new doctor in town, and she might just be there to save Oscar. He's got some issues, his family is not there to make things easy on her, and she's going to have to do what she can do. Cassandra James did all she could to live tweet and answer all the questions being thrown her way yesterday, and she did a spectacular job!
What's Next on General Hospital
"I want you to stay… " #GH55 pic.twitter.com/QaNzeygf8Q

— General Hospital (@GeneralHospital) October 8, 2018
A lot is happening right now. Oscar is working well with Liz, and we are all wondering if she can somehow make this situation work. Will she be the one who is able to get him to finally calm down so she can save his life? Can she also bring him back together with his parents and get them to stop lying to him so that they can get this situation under control? Someone has to try, and this just isn't something that we can help but hope for. She's a good nurse who can do that for him if he allows her, and he needs someone like her right now to advocate for him and make this happen. She's a good person to be on his side, and we hope that she can make that happen for him, but we are not sure that Kim will appreciate anything that's going on right now.
Felicia is also going to surprise everyone today with a big announcement. We don't know what she has to say, but we assume it's going to have some kind of affect on more than a few people. We don't know that this will turn into another situation we can't handle, but we can hope that it will turn into something that works for everyone else. There's a lot that we cannot handle in the moment, but one thing we cannot help but hope for is that they can make this work somehow. It's a nice feeling to know when someone is working on helping the others in their lives, and we are going to hope for that.
Stay tuned for more General Hospital and be sure to check out TVOvermind daily for the latest General Hospital spoilers, news, and updates.
Tell us what's wrong with this post? How could we improve it? :)
Let us improve this post!