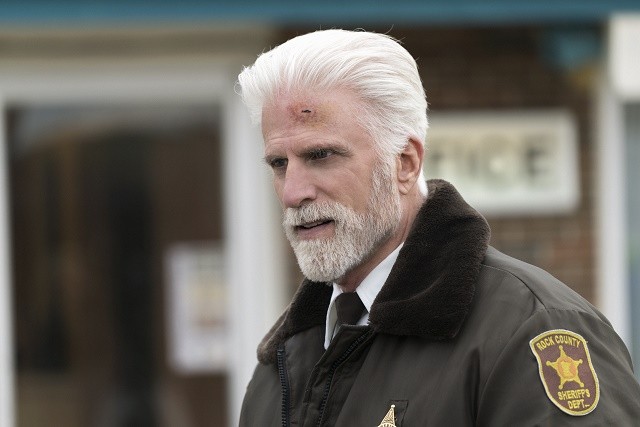 Umm….whoa! I think if I left my review at that, people would mostly get the message, right? Lucky for everyone, I can word vomit all over the place, especially when shows are this good. Fargo has been really excellent this season, but even more so this week, as we reached the promised "Sioux Falls Massacre." "The Castle" was tense, bloody, amusing, and all-around well crafted, and made for an exciting penultimate installment of Fargo's second season. I try to think if I could ask for more from a series, and I really don't think that's possible.
This week on Fargo: As things escalate in Sioux Falls, Ed and Peggy are taken into protective custody. The South Dakota troopers think that they know better than Lou, so they send him home. Hank stays behind to keep an eye on Ed and Peggy. Hanzee tells his family that Dodd is being held in the hotel, and the entire Gerhardt clan shows up for a shootout in Sioux Falls.
I thought this episode was incredible. All of the build and tension leading up to the "Sioux Falls Massacre" was indicative of a phenomenal story, but the actual arrival of the event did not disappoint. It was also quite a misdirect, as all along I expected the battle to be between Kansas City and the Gerhardt family, with Lou, Hank, Ed, and Peggy caught in the middle. However, the fact that it was almost entirely inflicted by Hanzee created a really cool, interesting twist. Discovering Hanzee's motivation becomes the driving force behind the final two episodes, and I'm still not ruling out that Hanzee, not Bear, is Charlie's father, and his arrest somehow sparked something within him. Either way, we were promised a bloodbath and we got it!!
Among all the things I love about Fargo (trust me, there are a lot), one of them is the constant connections and allusions to various Coen brother films. Musically, there have been a lot of allusions and connections in this season of Fargo, using O Brother Where Art Thou? songs like "O, Death", "Man of Constant Sorrow", and more. In this episode, Wayne Duvall (O Brother's racist candidate Homer Stokes) appeared, and it just reminded me how wonderful this television universe is. The Coen brothers are wonderful filmmakers, and this universe is so respectful of their work. Being familiar with Coen films really enhances your viewing experience.
For as many awesome action moments as there were in "The Castle," there were several scares and heartbreaking moments. For instance, I audibly gasped when Betsy collapsed before she could answer Lou's call. Not that I didn't know it would come eventually, but that it was such a heartbreaking, sad moment for a character you've come to care about. That, in my humble opinion, is what makes a show great. I also had great fear for Hank during the shootout, but at least he survived to joke with Lou a little bit. But that kind of tension and fear for characters you care about is truly exhilarating and one of the best parts of Fargo.
This episode, flying saucer and all, was Fargo's best yet (at least in Season 2), and hopefully, the finale can outdo it.
What did you guys think? Did you enjoy the episode? Let us know!!
Fargo's Season 2 finale airs Monday, Dec. 14, at 10/9c on FX.
[Photo credit: Chris Large/FX]