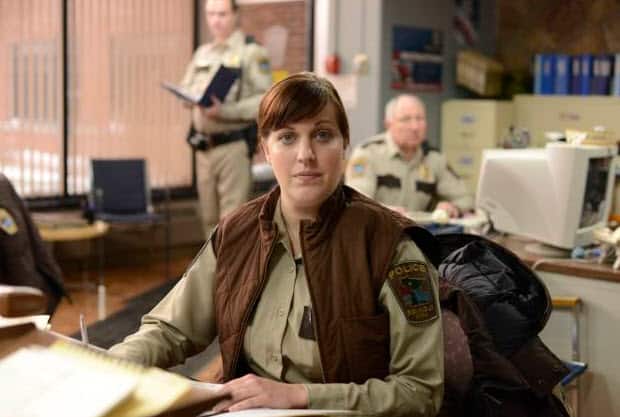 I don't know if you guys have been watching FX's Fargo but all I have to say after the first two episodes is…."Wow." The entire time through the first two episodes, all I could think about is how they seem to have perfectly captured the Coen brothers' style. This show has spent two entire episodes making me either laugh or gasp the whole way through. Wow, this one's a doozy.
In the aftermath of last weeks "triple homicide" (which is actually a double homicide with a third murder occurring elsewhere) in the town of Bemidji, Minnesota, the episode actually starts with two men from Fargo (one who only speaks in sign language) coming to ask questions about Sam Hess' death. They are obviously looking for Lorne Malvo (Billy Bob Thornton), but it is not yet clear why these men are looking for the man who killed Sam Hess. Of course, what better way to stay engaged in a TV series than to have lots of questions about it? All we find out from these men is that they corner a suspect named Lenny (who bears a striking resemblance to Lorne) and they find out he's not the guy, but they still go and bury him under the ice in a lake. Yikes!
Meanwhile, Deputy Molly Solverson (relative newcomer Alison Tolman) is suspicious of Lester Nygaard (Sherlock's Martin Freeman), since he is the only one who survived (and, you know, killed his wife). The new chief, Bill Oswalt (Bob Odenkirk, Breaking Bad), however, tends to think that it was a random drifter crime (which he ironically isn't entirely wrong about) and discourages Molly from pursuing Lester too hard. Molly, however, is just too wrapped up in her namesake to listen (Solverson…get it?). After the initial statement and questioning, Molly isn't satisfied by Lester's answers, so she corners him at the drug store. Lester, however, was not happy about this and spoke to new chief Oswalt, who is forced to take Molly off the case. Somehow, I don't think that is the end of that.
Lorne Malvo has moved on to Duluth, in which we've already seen him spare the life of Gus Grimly (Dexter's Colin Hanks), and is meeting with a "new client". We're obviously not entirely sure what Lorne does for a living, but I tend to think he's business associates with The Joker and Todd's uncle Jack from Breaking Bad. He meets with a supermarket guru who is being blackmailed (for a very specific amount of money). It doesn't take Lorne long to figure out, however, that it's the guru's estranged wife's personal trainer (played hilariously by It's Always Sunny in Philadelphia's Glenn Howerton), who is doing the blackmailing. If Malvo wasn't a psycho, he'd probably make an excellent detective.
This show has just been fantastic so far. The essence of the Coen brothers is captured perfectly. Each moment is either tense or hilarious, and sometimes hilarious and shocking all at the same time. I can't say enough about the cast, either. Martin Freeman and Billy Bob Thornton were expertly cast in the lead roles, but it's the well-crafted supporting characters that really shine. Comedic specialist Bob Odenkirk defied odds on Breaking Bad, and he does so again here. He's the perfect choice to play the dimwitted Oswalt, and he proves it in every scene. Alison Tolman holds her own with all of the veteran actors in the show as well. Which cannot be an easy task, with the likes of Thornton, Freeman, Odenkirk, Colin Hanks, and even Keith Carradine as her father! But she has proven so far that she is up to the task.
I really like the inclusion of comedic actors to diffuse the incredible tension this show holds, too. I almost got distracted by the use of Glenn Howerton (Dennis from It's Always Sunny) but it made me laugh, mostly. He gets an expanded role next week, and I know that Key and Peele come in later on in the series. Words cannot adequately express the joy and excitement I have about this. This is a risky move in serial comedies, but it has paid off in a big way so far.
One of the biggest questions so far is Lorne Malvo. What motivates him? Why is he doing what he's doing? How is he coming up with those hilarious one-liners while still being a murderous psycho? Life's tough questions. Personally, I think he's like the Joker. After all, some men just wanna watch the world burn. But this is just episode two, so who knows? Perhaps his motivation is simply yet to be revealed. Only time and 8 more episodes will tell.
I'm hooked on this new show. The acting is great, the presentation is extremely interesting, and it's hilariously dark. What about you? Are you watching? What do you think of this new show?
I'll definitely be seeing you next week. This is too good to miss!
[Photo via Chris Large/FX]