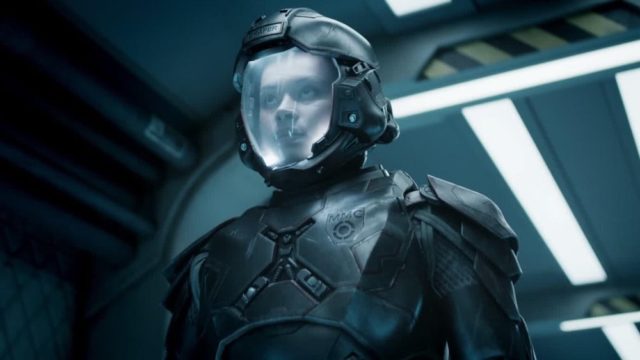 The season 3 premiere of The Expanse is coming up soon, and the thrilling teaser trailer that's been released is only the first little bit that will get fans of the series salivating. If you haven't watched The Expanse yet then it might be time to catch up since the series is really very thrilling and more than a little addictive once you really get into it. As futuristic shows go this one is bound to hold anyone's attention should they give it a few minutes of their time. The idea that Earth and Mars could possibly go to war over a vast conspiracy involving a missing woman and an ice hauler is something worth taking note of.
There's a wide array of scifi shows on TV and a great number of them have received high praise for their originality and supposed plot points that give new meaning to the genre. But The Expanse is different in that it pits two planets against one another and the fallout is something that neither will be able to run or hide from and the only constant is that no one is safe no matter where they are. The reach of this conflict is something that is impressive to think about even with the kind of technological advances that are a part of story line, but the scope, while smaller than many scifi shows, is still big enough that it allows people to get a sense of a very real and imminent threat that could affect a great many people. Viewers are often turned on by a show when they realize that the effects of a conflict within a series are centralized around main characters but are still widespread on such a scale that one wrong move by anyone could mean war on a scale that humanity has not yet seen before.
In movies it is common to see interplanetary war taken to this level, but in TV, while it does happen, it takes a certain level of interest to really get people into the story and to keep their attention for a prolonged period of time. That could be why The Expanse has become such a highly anticipated show, because people want to know what's going to happen between Mars and Earth, and they want to know where the Belt is going to stand in all of this. By looking at the teaser as of now it would appear that no one is going to be safe in the coming conflict and life as people know it is about to get much, much harder.
It takes a lot to generate interest in a scifi show these days since there are so many to pick from, but so far The Expanse has done all it can to keep people interested and to make certain that they keep coming back. To this point the show has done very well in keeping its viewers entertained and will no doubt continue to do so when season 3 finally premiers on April 11th.
Get ready. #TheExpanse season 3 premieres 4/11 on @SYFY.

No planet, asteroid, or ship is safe. pic.twitter.com/a8XeQxJHNC

— The Expanse (@ExpanseSYFY) February 23, 2018