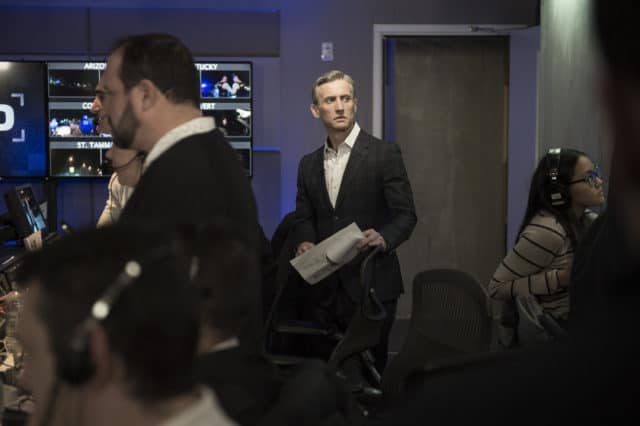 TVOvermind recently caught up with Dan Cesareo, president and founder of production company Big Fish Entertainment, and executive producer of hit series Live PD (A&E), which reached a milestone 100thepisode last month. Cesareo, who founded Big Fish in 2006, has produced more than 750 hours of top-rated and super social programming in the live, unscripted reality, lifestyle and documentary space. Other current Big Fish series include mega-hit franchise Black Ink Crew: New York and Chicago for VH1 (check out TVOvermind's exclusive with Dan last year on the franchise here); Date Night Live for Lifetime; Chris Paul's Chapter 3 for ESPN; Tattoo Girls for TLC and culinary docu-series Hustle & Soul for WE tv. With a penchant for reinventing what's already been seen, Cesareo has made a serious splash in the live space with Live PD,offering viewers a transparent and unbiased perspective on what the policing of America looks like. The series follows diverse police departments across the country in real time as they patrol their communities on a typical Friday and Saturday night. Since its debut in October 2016, Live PD has become A&E's #1 show among A25-54, A18-49, and Total Viewers and remains cable's #1 series on Friday and Saturday nights among A25-54 (excluding sports, movies and awards shows). Discussing the show's development and reception, Cesareo shared exactly what goes into the making of "the ultimate ride-along:"
How has the genre of crime series changed over the years, and how does Live PD fit in?
As much as the audience for crime series has grown, the genre itself hasn't changed much over the past 25 years. Viewers have been primed to expect a very specific formula for how the story and action will unfold. Surveying genres that have historically worked and finding a meaningful way of flipping them on their heads, is a strategy very much a part of our DNA at Big Fish Entertainment. When we started thinking about the live space, serendipity would have it that around the same time, we came across an article about police departments live tweeting on patrol. We started to wonder, if departments were open to officers live tweeting, would they let us live broadcast?
From the outset of development, we wanted Live PD to showcase transparency in law enforcement like never before on television, and shine on a light on the full spectrum of what it looks like across the nation. That means documenting high speed chases and routine traffic stops, exploring both rural and urban communities plus those in between, and telling the story from beginning to end. That way viewers at home can watch from the initial call through whatever the resolution may be, with the show providing a platform to bear witness so the audience can make their own judgments about what happens. I think the level of transparency that we are operating at, the context the show provides and the top-tier production quality so viewers can see it all happen, is what draws people; it's become a really unique viewing experience for the audience. Live PD grew very quickly from a one night two-hour block, to two nights of three-hour blocks of live content. The show is a completely different pace and it's impossible to anticipate what's going to happen next — even for us!
This show has been called "the ultimate ride-along," how have viewers responded?
Viewers are incredibly savvy, and I think across the board have had a greater interest in real content — whatever that may look like. With Live PD we want to give audiences the chance to feel like they are right there in the cruiser with officers or following a chase on foot, all from the comfort of their living rooms. It took a few weeks to find our rhythm from a production standpoint and also for viewers to both find the show and experience their own learning curve in really digging into the live format. A&E was an amazing partner in giving us the room to find our footing and the audience followed suit — the show's viewership has grown 146% since we originally premiered in October of 2016.
The social media engagement is fascinating to track while watching Live PD in real time, and a huge part of how people galvanized around the show. The series itself is neutral, with the law enforcement agencies functioning as our access point in order to track various situations from beginning to end, and it's up to the viewer to decide how they feel these moments are handled. There's such a broad and honest mix of feedback, which serves up a more informed and elevated conversation about policing in America.
The fact that Live PD is the #1 show on Friday and Saturday nights is so humbling and so gratifying because it's one of the most challenging shows we've ever produced. So much of the content we capture would never end up in an edited show and we find those are the moments that frequently people respond to the most — whether it was a suspect last August who belted out Pearl Jam's "Even Flow" while being arrested or officers investigating a disturbance and encountering a squealing pet pig just a few weeks ago, you just can't write this stuff.
What is the control room like during the live show?
The control room on any given night is nothing short of controlled chaos. Our team has over 10,000 hours of news experience, but we genuinely never know what to expect. Being on the edge of our seats is often an understatement, but there's a massive amount of communication going on between our field producers who are with the various departments we film with who can tip us to what officers are responding to, and help determine what location we rotate to.
Our host, Dan Abrams, has one of the hardest jobs in television. His ability to handle the traffic in his ear and guide viewers during the live show is unbelievable, especially considering how quickly we sometimes need to shift to an occurrence in a different police department. The show is made possible by an incredible team of more than 100 people working in unison for three hours.
Has there been one moment during the live show that stood out among the rest?
Just two weeks ago we had a very intense situation where a suspect being apprehended was verbally threatening the lives of the officers' families. The suspect also pulled out a flashlight, which was the closest we've been to an officer involved shooting. It was an unforgettable and chilling interaction. There was another situation not long ago where a man OD'd in a parking lot, and officers had to administer Narcan to save his life. This happened on a Friday night, and the following night during the live show the same man flagged the officers down to thank them for saving his life — it was just by chance that they were reunited and that we were there to capture such a powerful moment. There are so many hair-raising situations and just as many moments that showcase the idiosyncrasies of human interaction that are just as compelling or funny or inspiring.
What's the biggest lesson you've learned over the last year filming, and how do you see the show growing?
We recently hit our 100th episode on March 9, and we're still constantly learning; no two nights are the same. And it's such a big commitment for all parties involved, especially the departments, which we also film with during the week to grab brief pre-taped segments and then are live with them over the weekend. With such a broad range of police departments and locations, it's amazing to see how overwhelmingly positive the response is among both the law enforcement agencies and their communities. And the influx of new departments interested in participating is continually growing. Shining a light on what officers experience on a daily basis, and offering viewers the access to really see what's going on in their communities — whether our cameras are there or not — has inspired a meaningful and honest dialogue.
In regards to growth, we definitely want to continue expanding the number of departments we film with, as well as feature new points of view and different types of public safety and service. We've tapped into something new that offers a level of interactivity and source of information that will also keep you glued to your TV. This show is proof that patience really pays off, and I'm thrilled to be along for the ride.
Tell us what's wrong with this post? How could we improve it? :)
Let us improve this post!