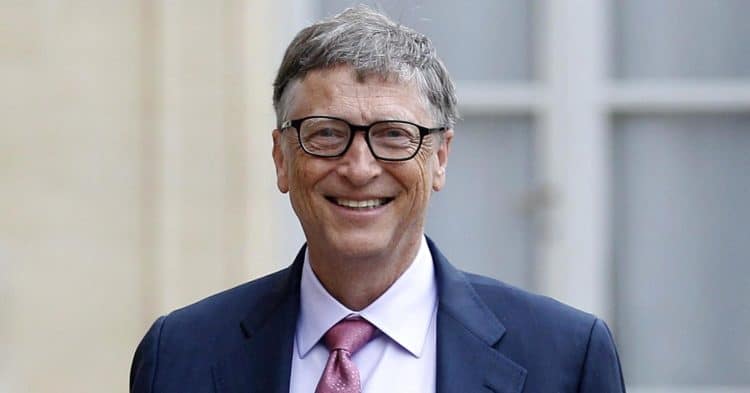 Every year since 1987, Bill Gates has made the Forbes List of the richest people in the world. Thanks to his brilliant mind and that of Paul Allen, the tech mogul has established his name in history as one of the pioneers of the microcomputer revolution. Microsoft, the world's largest software company, was founded by Gates and Allen back in 1975. Being a key figure in the technological space, a number of documentaries have featured Gates, including Netflix's Inside Bill's Brain: Decoding Bill Gates. Similarly, Gates has made appearances as himself in a couple of television shows, including The Big Bang Theory, Silicon Valley, and The Simpsons. Gates has also been portrayed by other people in a couple of films, most notable of which is his ultimate body double, Steve Sires. Here are three of his most significant portrayals in films:
'Pirates Of Silicon Valley' ( Anthony Michael Hall)
The 1999 biographical drama Pirates of Silicon Valley was based on a book written by Michael Swaine titled Fire in the Valley: The Making of the Personal Computer. Being the top players in the technological space, the rivalry between Gates and Apple founder Steve Jobs was its center of attention. In the film, Noah Wyle appeared as Jobs, Joey Slotnick portrayed the role of Apple co-founder Steve Wozniak, while Anthony Michael Hall played the role of Bill Gates. Variety's Ray Richmond wrote of Hall's role: "In Pirates, Gates is played with unassuming restraint by Anthony Michael Hall. Hall, the "Breakfast Club" nerd, is more than up to the task here, as the story casts Gates as a kind of obsessed peripheral player in the home computer explosion who slipped in through the front door (along with partners Allen and Ballmer) while no one was looking."
When he auditioned for the role, Hall asked his manager for a pair of glasses. He tried his best to pull off the geekiest look he could. " I went in there and just gave it my all," Hall said at a past forum. Getting the part got him really thrilled. He saw the role as an honor and buried himself in every Gates' biography he could possibly find. In addition to reading books about Gates, he watched most speeches and interviews he had conducted. To master his role, Hall paid attention to the littlest of details, including Gates' eye movements and posture. One plot twist that saved the day in the most absurd of ways came in the form of Hall's acting coach, Steve. In order to get Hall's imitation of Gates'voice as close as he could, Steve came up with the ingenious idea of having a tampon up Hall's nose. According to Hall, it worked like a charm.
'The Social Network' ( Steven Sires)
Directed by David Fincher, The Social Network was yet another biographical drama based on the story of the founding of the biggest social media platform, Facebook. The film achieved critical acclaim, garnering several positive reviews from different platforms, and also received several Academy Award nominations. It won Academy Awards for Best Film Editing, Best Original Score, and Best Adapted Screenplay. Not only was it a hit at the box office, but The Social Network was awarded at the Golden Globes Awards. Much of its storyline was focused on Zuckerberg, played by Jesse Eisenberg, alongside Andrew Garfield, who portrayed the role of Eduardo Saverin, and Justin Timberlake, who played Sean Parker. In the film, there were references to other players in the technology field, including PayPal co-founder Peter Thiel, who gave Zuckerberg a $500,000 seed investment.
Bill Gates, portrayed by Steven Sires, Gates' body double, made an appearance in the film. In the scene, Gates gives a lecture. He talks of the beginnings of the tech industry that he refers to as 'very humble'. He goes into detail in lingo that only tech students would appreciate and understand, talking about processors, memory boards, bytes, and programs. While Gates is delivering his lecture, Christy Lee ( Brenda Song), spots Facebook co-founder Eduardo Saverin ( Andrew Garfield), who is seated next to Mark Zuckerberg. " Is that Mark Zuckerberg?" She asks. To which Saverin replies, " Yes." He implies that Facebook is 'both of ours'. Lee tells Saverin to 'Facebook me' so that later, they can grab a drink. " Have you heard so many different good things packed into one regular-sized sentence?" Saverin asks Zuckerberg as both of them leave Bill Gates' lecture.
'Nothing So Strange' (Steve Sires)
Released in 2002, Nothing So Strange was a documentary comedy with a fictional assassination of Bill Gates as its focus. The film was directed by Brian Flemming, known for Hang Your Dog in the Wind, and The God Who Wasn't There. In the film, Gates, played by Steven Sires, made an appearance at the very beginning. Steven Sires, who in every way is Gates' doppelganger, made his way onto a podium to deliver a cheque for charity. It wasn't long before a sniper gunned him down, first aiming a bullet at his shoulder, then his head. That was Gates' only appearance in the film, with references being made of him as a public figure. As is with every representation of Gates, his wealth was also mentioned.
Following Gates' assassination, a community dubbed Citizens for Truth emerged, whose aim was to probe into details of Gates' assassination. Throughout the film, members of Citizens for Truth grew in numbers, so much that their investigative instincts attracted a peak following that led to a convention. However, a drop in numbers led it to lose credibility and eventually become extinct. Variety's Scott Foundas gave the film a good review, writing: "Flemming threw his actors into the fray of real events, "staging" scenes for the film at real community action meetings and even the 2000 Democratic National Convention. There's a consequent vigor to what's onscreen; the events seem to be unfolding in the moment, all captured by Flemming in crisp DV images. It may be the ideal prototype film for the digital age (i.e., a film in which video really enhances the viewing experience), so much so that one laments its inevitable transfer to film."
Tell us what's wrong with this post? How could we improve it? :)
Let us improve this post!