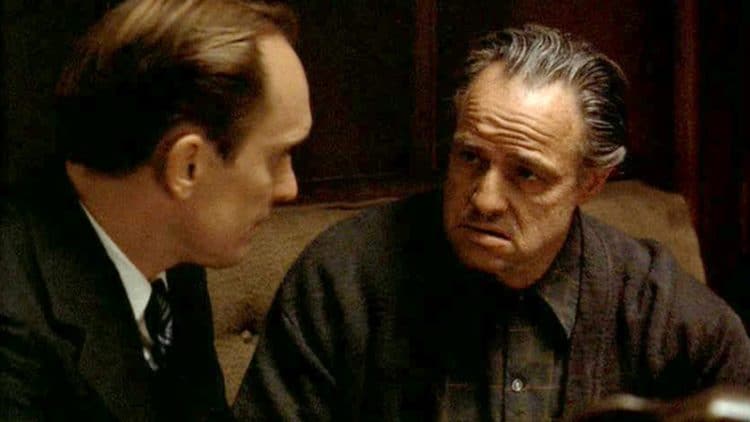 When films about mobsters and organized crime are mentioned, it's almost impossible not to think of The Godfather trilogy. The crime drama that was directed by Francis Ford Coppola followed the Corleone family, headed by well-respected patriarch, Don Vito Corleone, portrayed by Marlon Brando (A Streetcar Named Desire). The powerful family made a living out of organized crime where violence and bloodshed were a regular occurrence. It's a classic franchise that is easily considered as a cinematic masterpiece, and one that we don't mind watching over and over again. Apart from being one of the greatest films of all time, The Godfather trilogy is also known for its life lessons that have been imparted from one generation to another. It basically changed our outlook on how mobster movies are made, and has set the bar to a whole other standard. Here are five scenes from film franchise that showed us that blood is thicker than water:
5. The meeting with Sollozzo
In the first installment, Sollozzo, portrayed by Al Lettieri (Pulp), a known narcotics smuggler and dealer, arranges a meeting with Don Corleone to propose a partnership in his heroin ring in exchange for protection from corrupt judges and other politicians that Don Corleone keeps on his payroll. During the meeting, Don Corleone's eldest son, Sonny, portrayed by James Caan (Misery), makes a fatal mistake by disagreeing with his father's stance in front of Sollozzo and company. After the meeting, Don Corleone is sure to confront Sonny about this, as he imparts a valuable lesson about never letting anyone outside of the family know what you think. This goes to show how Don Corleone gives importance to showing a united front, and protecting the overall family image.
4. Don Corleone talks about how to be a real man
The scene in the first installment where mob-associated singer and Don Corleone's godson, Johnny Fontane, portrayed by real-life signer, Al Martino, visits Don Corleone to air out some work-related concerns ends with a scolding that a lot of men can learn from. Don Corleone tells Johnny to act like a man, and goes on to prod him if he spends time with his family. He then goes on to say that, "A man who does not spend time with his family can never be a real man." It was straightforward advice that punches right to the gut. Don Corleone may have run a criminal enterprise, but he always made sure to be a present father and good provider for his family.
3. Michael educates Fredo about taking sides
Out of all the film installments of the trilogy, the first may contain the most important lessons on life and family in the franchise. The scene where Don Corleone's youngest son, Michael, portrayed by Al Pacino (Scarface), has a confrontation with mobster, Moe Greene, portrayed by Alex Rocco (The Famous Teddy Z), in his hotel-casino in Las Vegas, after hearing about his rude treatment towards Michael's older brother, Fredo, portrayed by John Cazale (The Deer Hunter). Fredo reprimands Mike afterwards, warning him not to talk to a big-time mobster like Moe like that ever again. This sets off Mike, who answers back and tells Fredo never to take sides with anyone against the family again. This is another instance that shows how the Corleone's value loyalty and solidarity within the family.
2. Don Corleone's Sicilian Revenge
In the second installment of the film franchise, we are able to catch a glimpse of Don Corleone's younger years, as portrayed by Robert De Niro (Taxi Driver). His rough and tragic childhood has molded him to tackle life with grit and resilience. Tough circumstances force him to leave his hometown in Sicily and start a new life in New York City. One of the antagonists in his life is kingpin, Don Ciccio, portrayed by Giuseppe Sillato (Don Juan in Sicily), who was responsible for killing Don Corleone's father. It took years and a lot of hard work for Don Corleone to make a name for himself. He travels back to Sicily as an established businessman, and arranges a meeting with Don Ciccio. He takes the opportunity to avenge his father's untimely death, and takes revenge on Don Ciccio by slashing his chest area to his throat area. Murder and revenge are never the answers to any problem, but this scene just shows how Don Corleone has never forgotten about the people who wronged him and his family, and will fight to honor their death until the end.
1. Michael apologizes to Kay
We have witnessed the transformation of Michael in the trilogy, from the innocent young man who wants nothing to do with his family business to the new head of the Corleone family, who must do some cold-blooded things in order to protect his family members. His marriage to Kay, portrayed by Diane Keaton (Father of the Bride), was not able to withstand the turmoil brought by Michael's family enterprise. In the third installment of the franchise, we witness a more subdued Michael who just wants to lie low and repair the relationships he has broken in the past. There's a heartwarming scene in the film where Michael sincerely apologizes to Kay for his past transgressions. It's obvious that Michael had nothing but love for Kay and their family, but his duty as head of the family overshadowed all that. At the end of the day, power and money can mean nothing if you don't have your loved ones and family by your side.
Tell us what's wrong with this post? How could we improve it? :)
Let us improve this post!