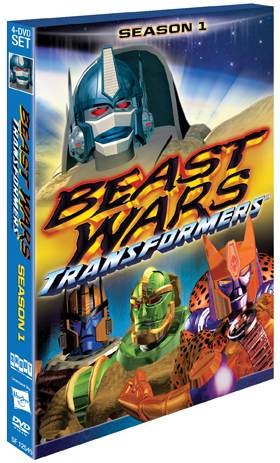 I remember the good old days, when I was oblivious of any Transformers storylines and the robots in disguise were just really awesome toys. But then, years after I'd gotten rid of all my toys, I watched the Transformers movie and was shocked at how much Michael Bay had ruined those toys for me with his orgy of robots fighting and causing explosions. Taking that into account of my disdain for the animation of ReBoot, I was really skeptical going into Transformers: Beast Wars.
The CGI of the 1990s has always been a bit dark to me. Maybe that's because it all seems really lifeless; the eyes are dead, the facial expressions minimal. For the technology available at the time, the animation isn't bad, but by today's standards it doesn't even come close to fitting the bill. But Beast Wars, which came a few years after ReBoot (which was animated by the same people), is a step in the right direction. It's an interesting relic of now ancient animation.
The storyline isn't great, but it isn't as bad as it could be. The premise is pretty interesting: the Predacons (formerly Decepticons) and the Maximals (formerly the Autobots) search for Energon on Earth but pass through a time portal and end up on prehistoric earth, where all of mankind is eventually threatened when Megatron targets a small population of early humans. Sure, it isn't really scientifically accurate, but it's Transformers! Who cares? (My favorite part of the series is that they've changed character names slightly to fit the premise; Optimus Prime becomes Optimus Primal). Too often, though, there are scenes that feel designed to sell toys, and the characters are all kind of flat. It's a children's series, so it doesn't really matter to the target audience, but for anyone over 10 years old, it's pretty noticable.
Transformers fans will dig the set, though, as will fans of the now-retro 1990s animation.
Both the Complete Series and season 1 are being released on Tuesday (6/7). Season one is available for order on Amazon.
The Complete Series is only available through Shout! Factory's online store.