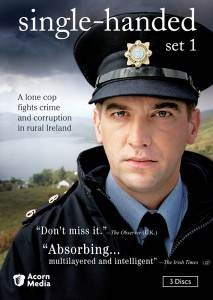 With few exceptions, everything I've seen from Acorn Media has just been utterly brilliant. Single-Handed is no exception.
Maybe it's just because I'm an anglophile, but it's very hard to criticize what I find very little wrong with, as is the case with Single-Handed, an Irish cop show about a cop returning to his hometown to take up a bit of police work, and uncovering a very precariously hidden dark history — some of which leads back to his father.
The story keeps you guessing, that's for sure. Each of the three feature-length mysteries included in the first set aired as individual "series"; the first originally aired in 2007, the second in 2008, and a third in 2009. The inevitable Set 2 will feature episodes from last year's six-episode fourth series.
Essentially, Single-Handed, Set 1 is three films, each one-and-a-half hours long and focusing on a different mystery. The first episode, perhaps the set's most tense, is unique in that it features no violence. The only shocks come from the revelations that Jack Driscoll, our protagonist, is faced with. They're earth-shattering to him, and they're neither overdone or downplayed. Their magnitude is felt simply through Owen McDonnell's quietly powerful performance. The show puts each mystery in the slow-cooker and leaves it to slowly boil over, making each revelation more terrifying than the last.
Americans with untrained ears will almost certainly need subtitles for the Irish brogue that pervades throughout, but beyond that, the show should appeal to almost anyone. Whenever the plot slows, the wide shots of the Irish coast can keep you fascinated (the show seems to know this, and lingers on landscape shots quite often). Single-Handed almost made me want to live in Ireland (once their economy recovers, it shouldn't be a tough sell).
The DVD features on-screen text of an interview with the producer, as well as production notes regarding the show. The episodes themselves are spread over three discs, meaning that each disc is a separate mystery.
If you're expecting a gritty, violent drama like previous Acorn releases Touching Evil and Prime Suspect, you'd be wrong. Single-Handed is actually more relatable to those old Agatha Christie mysteries, though with a much darker center — and a prettier backdrop. I'd recommend it to just about anyone.
Single-Handed, Set 1 is available on Amazon for $37.99.