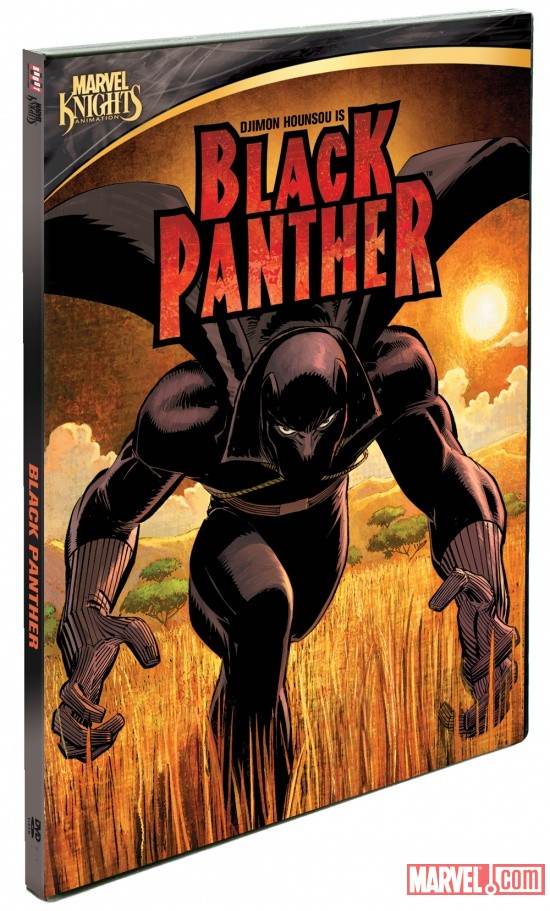 I was familiar with the Black Panther before watching this show (though only vaguely — he'd popped up in a few issues of Fantastic Four), but I didn't know how intensely badass he was until I received my review copy of this surprisingly gritty miniseries. Hell, in the first half of the show, Black Panther single-handedly outfights Captain (freaking) America. If that isn't a signal of extreme toughness, I don't know what is. The fact remains, though, that Marvel Knights: Black Panther is one of the strangest superhero cartoons I've ever seen.
Of course, there are some absolutely cheesy moments (quite a few, actually), as is to be expected from any cartoon of the sort. But the story is also an interesting blend of modern political thriller and a sort of rustic South African tale, with the style of animation leaning toward the latter. It reminds me quite a lot of the Happily Ever After series that you can occasionally find on HBO Family in the midafternoon — the animation is simple, earth-toned, and looks almost ancient. If it wasn't so technically proficient, it would be tough to pin a time period on when the cartoon was made.
The story is a little too long (it's about two hours long), and grows tiresome after the first half. Its only saving graces are the strange political subplots that get thrown in (the United States using cyborg zombies as soldiers). Appearances by Storm, Cyclops, Juggernaut, and Captain America also serve to spice up the series, barely preventing the show from getting too tedious.
Did I enjoy it? Not as much as I could have, but my mistake was trying to watch it all at once. The six-episode miniseries is best watched at evenly spaced intervals — it gets to be much more enjoyable if you give it room to breathe.
Marvel Knights: Black Panther hits DVD on January 18. You can buy the one-disc set on Amazon for $10.99.