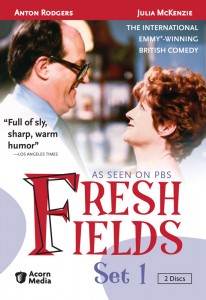 More so than perhaps any British show I've seen, Fresh Fields seems to hearken back to those golden years of television. Remember how I Love Lucy centered on the antics of a rambunctious housewife and the pains of her put-upon husband? Fresh Fields is essentially Britain's response to that, only thirty years late (Fields premiered in 1984). Thing is, it's probably more enjoyable.
The show follows Hester (Julia McKenzie, Mrs. Marple) and William Fields, a happily married couple who have a grown daughter and a nosy neighbor who just happens to be Hester's mother. The thing that strikes you immediately about Hester and William is that they're both incredibly lovable characters. There aren't any major character flaws. Hester isn't terribly grating, and William isn't too stuck up. It's the world around them that's crazy (well, maybe they are a little), and it's just fun to watch them interact with each other — scenes with the rubbish supporting cast aren't terribly enjoyable, though.
Ultimately, I found myself enjoying Fresh Fields, even though I hadn't really planned to. The show should have played right against my type, but instead I found myself actually smiling during some of the scenes between Hester and William. For it's few flaws (the opening minutes of the pilot episode are so slathered with canned laughter that it's disgusting), Fresh Fields is a good little show, made for both Anglophiles and lovers of that classic era of television.
The twelve episodes of the show's first two series are spread over two discs, and the set clocks in at 294 minutes. There aren't many special features at all; an on-screen filmography of star Julia McKenzie is all you'll find on the first disc besides the episodes themselves, and the same goes for Anton Rogers's filmography on the second disc.
You can order Fresh Fields: Set One for $36.99.