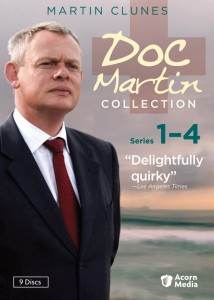 Martin Clunes is in a lot of British TV. The Doc Martin Collection is the third set that I've gotten from Acorn Media that stars the British actor (Dirty Tricks and Demob are the other two). The great thing about Clunes, though, is his uncanny ability to change himself. While he played conniving in Tricks and deadpan in Demob, Doc Martin sees him playing a new brand of funny character: sarcastic.
The easy way to describe Doc Martin to Americans is to call it the British version of House. Both Martin and House are brilliant doctors with really bad people skills and hidden demons. They each have their quirks, and they're often misunderstood by people they're smarter than. Of course, the differences really end there; as with almost all British-vs-American comparisons, Doc Martin is a lot more restrained than some of House's more dramatic episodes… But then again, it's a lot more original, and enjoyable.
Also starring Caroline Catz (The Guilty) as Martin's potential romantic interest, the series really relies on Clunes to deliver — and he does so, providing a really funny misanthrope — who is somehow really lovable — to follow around. The stories, many of which rely on the small nature of the village Martin has moved into, are delightfully absurd, but never really outside the realm of the believable. It's all just great fun.
The Collection includes all thirty episodes of the first four seasons on nine discs. There's another season planned (which is why this isn't called the "Complete Collection"), so this set could serve as a catch-up to the less-cultured American viewers who've never seen Martin (i.e. me).The set doesn't include any really good special features; most are just the on-screen "cast trivia" and "filmographies" that are included with most Acorn Media sets. Don't let that sway you, though — as always, the series can support the set without any need for bonus features.
Get it on Amazon.