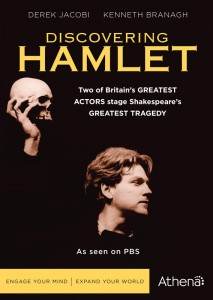 It's always quite interesting to see television meet Shakespeare. Last year, Acorn Media gave us a brilliant meeting of the two in the Blu-ray release of the Canadian series Slings & Arrows, an utterly brilliant dark comedy that followed a dysfunctional theater troupe as it attempted to put on adaptations of Hamlet, Macbeth, and King Lear. Now, this year, Acorn Media's documentary imprint Athena will be putting out more Shakespeare, this time in the form of a documentary titled Discovering Hamlet.
Shakespeare isn't the only connection this release has to previous Acorn titles. The director of the play it focuses on is Derek Jacobi, who played the titular character in Acorn's November release Cadfael. Also recognizable is a pre-Harry Potter Kenneth Branagh, who stars in the production as eponymous prince of Denmark.
The documentary was filmed in 1988, and if it wasn't for the recognizable faces, you wouldn't be able to tell. The documentary hides its age well, and is ultimately fairly engrossing, if less entertaining than Slings & Arrows, which accomplished the same insight with more humor. It doesn't hurt, though, that this hour-long documentary isn't the only thing in the set.
Unlike many Acorn releases, Discovering Hamlet features a whopping 3 1/4 hours of bonus features. It is, in fact, the first release I've seen from the company that has an entire disc dedicated only to bonus features. And bonus features there are. There's a half-hour interview with Jacobi on the first disc that gives additional insight, and another interview with him on the second disc. Other cast and crew members are interviewed as well. There are on-screen biographies of everyone involved, including the narrator Patrick Stewart (I forgot to mention that Picard was narrating, didn't I?). There are even on-screen biographies of famous portrayers of Hamlet from the past, all the way from nineteenth century actors like Edwin Booth (John Wilkes's brother) to Jacobi, who portrayed Hamlet long before directing.
Whether you'll learn anything about the theatrical process is left up to how much you know about it to start with. If you're interested at all, though, the set proves to be fairly entertaining, and packs in enough bonus features to provide for hours of watching.
Discovering Hamlet will hit DVD on February 1. You can order Discovering Hamlet on Amazon for $29.99.