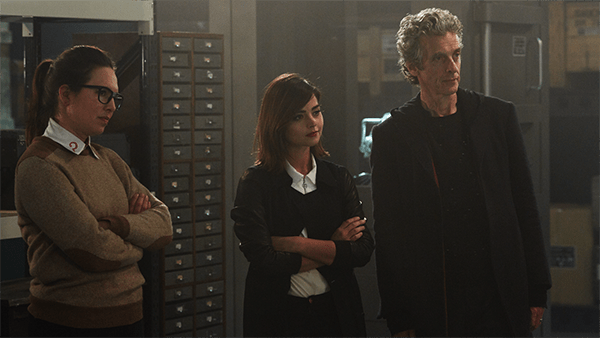 Doctor Who always manages to handle war topics in an emotional way without ever having a full war break out. In the two-part Zygon story, which concluded with this week's, "The Zygon Inversion," a war is on the cusp of fully breaking out that would en up helping no one. I really enjoy when Doctor Who tackles war because it's something that the Doctor is very emotionally attached to and scarred by for good reason. His character is someone who has personally been in war and experienced many others, which is why he's so focused on preventing any loss that he can.
The episode picks up with evil Zygon commander Clara, aka Bonnie, firing a missile at the Doctor's plane but it turns out Clara can use the mental link to influence what Bonnie does. I liked the dynamic of Clara being taken over because it did two things; one, it allowed Jenna Louise Coleman to play an evil character (as I mentioned last week) and two, it put Clara on her own and forced her character to show a little self defense and mental adaptability to a life threatening situation. I think this was my favorite Clara episode so far because for the most part I can't stand her. In episodes like "The Zygon Inversion," it forces the companions to rise up and basically display that traveling with the Doctor has left them with some good skills in high pressure situations.
Normally, I feel like Clara never really has to shine on her own and she ends up creating more bad situations than good. In this episode her character was forced to sit and think with some caution before doing everything. When the plot evolved to Bonnie and Clara trying to truthfully avoid revealing where the Osgood box is it really forced Clara into carefully choosing her words. Although I'm still not very big on her character, I at least appreciate when any Doctor Who companion has to fend for themselves.
When Doctor Who tackles war plots though it manages to always put the characters into some unfamiliar positions while the Doctor is doing everything in his power to stop a war from breaking out. Last night, I thought that the show did a great job of showing just how much the Doctor wants there to be complete peace where nobody dies. He tries so hard to get everyone to realize there's no reason or point in destroying one another yet Bonnie is trying to hurt people while Kate is gunning down Zygons left and right to defend herself. Either way, beings are dying and the Doctor can't stand it. Capaldi is just so great in the role and highlighting the genuine care that the Doctor has for everything in the universe.
The whole plot with the Osgood boxes is great because it's another extremely clever way to keep the peace. In "The Day of the Doctor," everything is solved by messing with both Zygon and human memories so neither would know which was the "human" one which left the solution to be a simple truce. "The Zygon Inversion" continues this idea but moves past the fact that everyone could live happily ever after; yet, the Osgood boxes have multiple buttons that leave the person deciding in a sticky situation. Each box having a "truth" and "consequence" option can be applied to both sides, who is right? Which button is the correct one?
Doing things like this really puts the characters of Doctor Who in an extreme moral position that adds depth to characters who are considered "villains." Doctor Who doesn't have many villains, but more misunderstood aliens, who most always are willing to listen if there is a solution to save everyone. Bonnie eventually realizes that revealing all of the Zygons on Earth won't actually solve anything, it will just get the small amount of surviving Zygons killed for no reason. She even gets to keep her memory because of her new found rationality and the Doctor's friendly personality.
Most people don't actually want to start wars or fights, it's just to make sure their opinion is heard when they feel they have been repressed. Good people can get mad and do some drastic things, but that doesn't mean they don't have a moral compass. The Doctor knows how to bring out reason in everyone because he knows that most wars are fought for nothing. I liked seeing the Doctor have to face his own memories of war in order to show that he has experienced this and does have the ability to emphasize with both sides; it's just another way to fill out his character more. "The Zygon Inversion," was another solid episode that, once again, let the Doctor shine while also providing depth spread across the plot and supporting characters.
Other thoughts:
The writing this season has been really great. I love that we are getting so many mini-movies with the two-part episodes but the fact that they can stand on their own as individual hours is how you know they are top quality.
It's pretty funny that the Doctor continues to erase Kate's memory. A minor trend that I hope keeps up.
[Photo via BBC America]