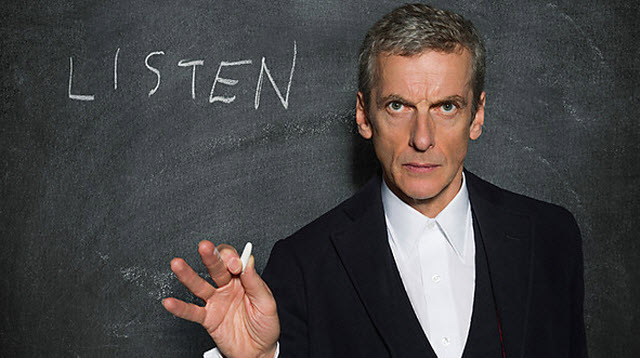 This is one of those episodes of Doctor Who that started out in a very boring way, but then all of the sudden pulled me back in.
"Listen" opens up with the Doctor being for himself and dealing with several questions that all leads back into the word "listen" and let's just say that it was one of the weirder openings to a Doctor Who episode.
Later on, Clara and Danny's date and because it is television, their first date is adorably embarrassing when they both accidently insult each other. Despite the awkwardness, Coleman and Anderson have this great chemistry that I really enjoy.
I didn't know what was up with the Doctor in this episode for him to be so overly wibbly wobbly timey wimey because normally, we as Whovians are completely used to it and that's one of the many reasons why we love him. Is it silly of me to think that it was random of him to start delving into the whole idea of a monster under a bed? Perhaps, but for some reason he was just way too wibbly wobbly timey wimey.
I liked the reason why they ended up in Danny's (or as he was formerly known as, Rupert) timeline was because Clara was so distracted by how bad the date went, during the whole TARDIS telepathic scene. We get to learn that Danny/Rupert was actually in a children's home in Gloucester back in the 90's and I loved seeing Clara getting to interact with his younger self.
Later on when she is back in the present, she goes back to the restaurant to sort things out with Danny, Clara fails to do so when she accidentally reveals that she knew his previous name (after having been in the past). Come on now Clara, hasn't the Doctor at this point taught you not to talk about things that you have seen in someone's timeline?
I liked that we got to meet Orson Pink who is supposedly a great grandchild of Danny and Clara and he reveals that he has the toy soldier that Clara gave the younger Danny. Is Doctor Who suggesting that Clara and Danny are going to hook up and perhaps get married in the future? Well we did get a kiss scene later on in "Listen" so why not? I would love that!
At this point, I was still bored by the episode because even when the Doctor got attacked by a mysterious creature, I still felt that this was a very random episode. But when Clara then took control of the TARDIS and use its telepathic link again, that's when it all started to get more interesting.
She is taken to an unknown location in a very old barn and she hears a child crying in his bed. I kept thinking the whole time that it was perhaps Orson's timeline that she had been transported to. But when two voices suddenly enters the barn, Clara hides under the bed and at first I thought it was perhaps Orson's parents, but then the episode blew my mind away. The two voices tries to encourage the crying child to sleep in the house instead and the male voice complains that by being such a crybaby, the child would never be able to be….a Time Lord.
Clara had been transported to the Doctor's childhood and that she was under his bed. She then becomes the monster under the bed (not literally of course) by grabbing his leg before convincing him to go back to bed. I loved what followed which was Clara comforting him and telling him that it's OK to be afraid and she tells him that one day, he is going to come back to that barn while being afraid. We are shown some archive footage of John Hurt's War Doctor from the 50th Anniversary which I think was a very nice touch because once again, it came all back together.
I don't know what I loved most about this aspect of "Listen" because we got to learn so much about the Doctor's childhood in just one scene which I never thought would happen while at the same time, see why the Doctor would fear the dark. It was a brilliant writing move by the episode's writer and the show-runner, Steven Moffat. I like that we never got to see the actor who played the young Doctor and that they left it as a mystery.
Overall, "Listen" didn't start out that well because it seemed like the plot came out of nowhere, but it was all tied back to that one scene in that barn as we got to learn a different side to the Doctor and what he fears.
Doctor Who airs Saturday nights, 9/8c on BBC America.

[Photo via BBC]