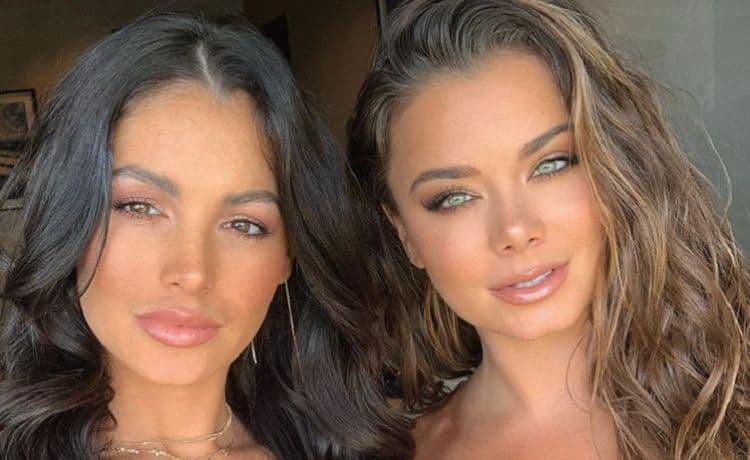 Dessie Mitcheson is an American model who was the subject of controversy when she wore a costume dubbed the "Nicest Neighbor Costume." It is a sexy and feminine take on the clothing worn by Mr. Fred Rogers. The costume consists of a sweater vest and necktie and super short-shorts. Not everyone thought it was a good idea, but there were more people who loved the costume. If you're not familiar with Dessie, then here are 10 things you probably didn't know about her that will help you become better acquainted with her.
1. She participated in The Amazing Race 30
Dessie Mitcheson teamed up with Kayla Fitzgerald, fellow model, to take part in The Amazing Race 30. The girls are also friends. The race took place in the country of Iceland. Kayla found herself suspended over a waterfall on a high-wire. She made a misstep and this cost the girls their lead and led to their falling behind. The other team beat them to the mat and they were eliminated in the first round and sent home. It was a valiant effort though.
2. Dessie lives in the same town as Fred Rogers
Dessie was also born in Pittsburgh, Pennsylvania, the home of Fred Rogers of "Mr. Rogers" fame. This made the fact that she modeled the Nicest Neighbor costume novel, but not everyone saw it that way. Dessie shared that she caught some static on social media over it. She was even told by one person who posted their opinion on the matter that she should "never return to her home town." She went on to venture that the situation became "blown out of proportion."
3. The Nicest Neighbor controversy is actually a good thing
While it's never any fun to have someone berate you for doing your job, it's not all bad for Dessie Mitcheson. Internet trolls are out to make people feel bad, and it's a known fact, but in this case, they may be doing her a favor. Because of the incident, a lot of attention has been drawn to the aspiring young model. In fact, it's gotten her some great press and attention over the situation, and in addition to that, gossip columns are also talking about some of her more successful ventures, so in the end, they've done her a favor, even though that wasn't their intention.
4. She's popular on Instagram
Dessie Mitcheson has an Instagram account where she makes regular posts and keeps her fans updated about what's going on in her life. It's a great place to find some good photos of her if you're a fan. As it turns out, she's gaining in popularity on her social media site. As of the last check-in, she has 396,000 followers.
5. Dessie has an official website for fans
Dessie Mitcheson has set up a great official website for her fans and for professional purposes. On the site, you'll find an About Me page that gives you an overview of who she is, her values and what she's doing professionally. There's also a gallery of photographs and a contact page for those who are interested in booking her for events or gigs.
6. She's an accomplished model
Dessie is a professional model. She's achieved a decent level of success in her vocation, appearing in Maxim magazine and winning their Hometown Hottie award. Although she barely made the cut, she was number 100 on the magazine's "Hot 100 List." She's been featured in several pages including two centerfolds and also a three-page spread. Dessie moved from Pennsylvania to Los Angeles, California to pursue her career in modeling.
7. Mitcheson has strong family values
Dessie was raised in the Western portion of Pennsylvania with her family. She developed her sense of fashion and style from her mom who is a cosmetologist. It was her mother who taught her the basics of beauty. While growing up, she learned her strong family values from her mother.
8. She's been a pageant contestant
Dessie graduated from high school where she achieved top honors. After graduation, she enrolled in cosmetology school. While still taking her courses, she entered the Miss Pennsylvania USA beauty contest. Although she didn't win the crown, she did make it to the top ten in the finals. She went on to enter several swimsuit competitions and she was the winner of several titles in this type of competition. She gained notoriety when she was selected to become the Face of the MGM Grand Las Vegas and Miss Pennsylvania Intercontinental. She also became the Face of Playboy Intimates.
9. She served as a ring girl
In addition to her modeling career, Dessie was also chosen to work in the boxing industry. She landed the gig as the main ring girl for the fight that took place between Floyd Mayweather and Manny Pacquiao. This gave her yet more great exposure to the public as this was a match that millions tuned in to watch. This was just one more stepping stone to arrive at her goal of establishing a career in television. Dessie also became the lead sideline reporter for the Legends Football League.
10. She attended acting school
Dessie Mitcheson has proven how serious she is about pursuing a career in television. She enrolled in classes when she arrived in Los Angeles. She completed a hosting class instructed by Suzanne Sena, as well as a class at South Coast Reparatory. She's off to a good start in an industry that is hard to break into, but the more exposure and press she can get, the better. Dessie Mitcheson is a young rising star to keep your eye on. If she continues on her current trajectory, we don't think it will be long before we're hearing more about her acting career.
Tell us what's wrong with this post? How could we improve it? :)
Let us improve this post!