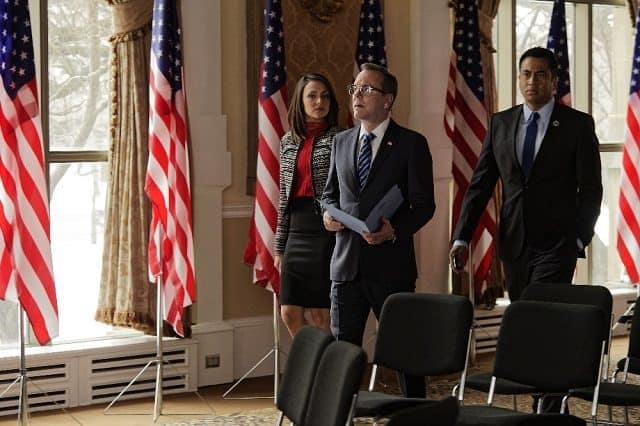 Designated Survivor turned out its best episode yet by setting the course for the rest of the season, next year, and President Tom Kirkman's entire term. When you're appointed, not elected, to a position, there's not really a whole lot of time to prepare for what you'd like to do with it. It was pointed out to the President that he's been playing catch up ever since. Now that he has at least some sort of a handle on the conspiracy which led to him being in office, Kirkman hopes to set the reset button on his Presidency. Day 1 starts now.
Given the extraordinary circumstances President Kirkman had to deal with when he took office, there was no time for anyone to ask what he actually wanted for the country. He was so busy catching up to the horrific circumstances which left the country unsafe, the people didn't know what he really wanted for them. So he asks for a reset on his first 100 days in office, arguably the most crucial for a president. This also gave us my favorite line of the week, Leo acting as a political assessor for his generation when he said that "Twitter thinks he's crushing it!"
Twitter doesn't think the same of Alex Kirkman. As a lawyer, the First Lady was used to word play, but she's never had to censor herself. She didn't think about that before she publicly stated her views about gun control. It's not that the President isn't going to address this issue, it's just that he was trying to avoid some of the more touchier subjects that bipartisanism can't agree on in the first 100 days. Alex walks back the public's assumption that she is speaking for her husband, but he and Alex are too in sync. It's what makes their marriage so strong. Tom and Alex Kirkman share the same opinions on so many different policies. It's something the President can't deny during his Town Hall Meeting because he wants to be honest with the people. He won't be a President who makes false promises on policies he never intends to pass, and he won't lie to his constituents. I can't even describe the joy at seeing him knock that Town Hall out of the park with his eloquency and honesty!
However, just because times are desperate doesn't mean the vultures don't come out. In fact it makes them feel bolder and more entitled. Incoming Senator Bowman from Montana won't let the President off the hook on the issue of gun control, so he tries to back him into a corner by announcing his plan to reintroduce on old bill on the subject. Any decision Kirkman makes in response would be catastrophic, so he's going to have to find a third way around a man who thinks he can manipulate this President.
We catch up with Aaron a little bit in this episode. He isn't bitter about leaving the White House. It was his choice and he's rooting for the President and his friends all the way. Others aren't so understanding. His cousin can't understand why he would consider going back to jobs below his qualifications when he served at the President's right hand. Speaker Hookstraten can't understand either. Aaron wasn't fired, and no one in Washington thinks that he left under suspicious circumstances, so Aaron could get any job he wants. At Hookstraten's insistence, he chooses to work for her. The President is an Independent, so why shouldn't a Democratic represent the Republican Speaker of the House?
Kirkman gave Agent Wells full access and point to do what she needed to in order to track down their terrorist while he's focused on his agenda. Wells finds out that her real name is Brooke Matthison, a sociopath, but an American citizen nonetheless. Wells and Chuck get a little too close to Matthison, so Chuck's apartment is blown up in retaliation. Atwood has been letting his emotions guide him since losing his son. It's perfectly understandable, but doesn't make for very good backup. It's not that he doesn't try, but when Wells brings him in to arrest Matthison, he does get emotional over the woman who killed his son. She doesn't give Atwood much choice but to shoot her dead since she would rather die than spill her secrets. It's not Atwood's fault, but nevertheless their living links seem to be going down fast. At least they get her hard drive, though that's somewhat of a Pandora's Box when opened. Remember the feeling of horror you got in the pit of your stomach watching the Capitol go up in a cloud of black smoke? Imagine that feeling for 3 other national monuments to be blown up at the same time. That's what comes next.
Will President Kirkman be able to stop the country from being destroyed from the inside out?
Designated Survivor Season 1 Episode 15 Review: "One Hundred Days"
Summary
President Kirkman resets his Presidency away from playing catch up as the Designated Survivor to making good policy for his administration.