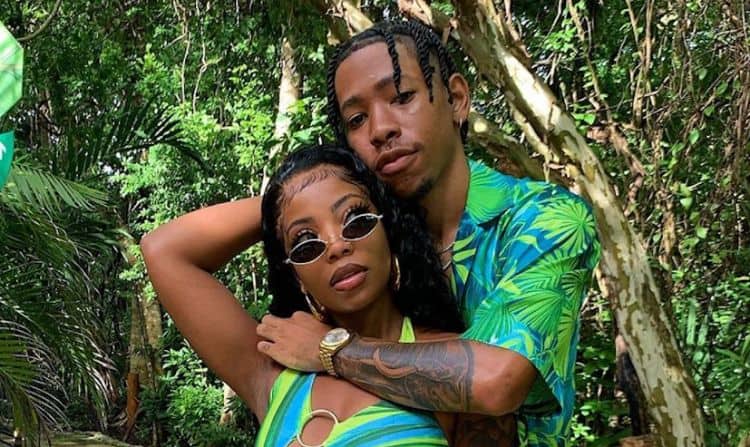 De'arra Taylor made herself famous on the internet alongside her fiancé, Ken Walker, but she's making headlines for all the wrong reasons lately. It was in November 2020 when her fiancé was accused of cheating on her, and someone posted a video of him on the internet being inappropriately close with another woman. He's already made a statement about the alleged cheating going on in the video. He said he did not cheat on his fiancé, admitted to touching the other woman's butt during a hug when he met her as a fan, but said the inappropriate behavior stopped with that. We don't know much about De'arra Taylor, but we can assume she's not happy to have her name, her relationship, and her private life being plastered all over the internet right now.
1. She's Been Engaged Since 2019
She and her fiancé got engaged in 2019. They have been together for a few years now, and he was accused of cheating on her back in 2018. They worked through the rumors back then, and we wonder if they will work through right now. There's been no talk about the wedding or anything that they are doing regarding getting married, but this might be a significant set back for the couple.
2. She's Doing Well Financially
She's worked hard in her life to get where she is, and she's doing well financially. We don't know her individual net worth, but we do know that her net worth combined with her fiance is a staggering $2.5 million. That's not bad for a couple of young people.
3. They Met at ChipotleM
If you've ever wondered how she met her fiancé, it was at Chipotle. It was back in 2014, which means her fiancé was only 16 at the time. He's 22 now, so they were just kids when they met and began dating. It's a cute story of high school sweethearts.
4. She's a Serious Fashionista
If you take a look at her Instagram feed, she's clearly got a stellar sense of style. She has bold fashion choices, and we are here for it. She can go super glam, super casual, or anywhere in between, and she looks phenomenal. What we admire about her sense of style is that she seems to wear what pleases her at the moment rather than sticking to one style. She has fun with fashion.
5. She's Still Young
She's not as young as her 22-year-old fiancé, but she's not much older than he is. Her date of birth is April 17, 1996. She's 24 at the moment, and she's living her best life in her 20s engaged to be married, working hard, and achieving her dreams. Hopefully, the rumors going around about her relationship right now are untrue for her sake so that she can work on getting through this difficult time.
6. She's From Tennessee
While we aren't entirely sure where in Tennessee she is from, she is definitely from Tennessee. She's a southern girl at heart because of that. She's fortunate to have grown up in a place that has so much to offer from the music scene to beautiful seasons to gorgeous landscape. It's a great place to be.
7. Her Sister is Famous, Too
Her little sister is also famous, and that's pretty cool. She's a social media star of her own. Her name is Zaria Mosley. We don't know if they have different names because her sister is married and has a husband's name or because they have different parents, but we do know that they are sisters.
8. Her Dad is Allegedly Famous
The thing is that no one can confirm the rumor that Yo Gotti, the famous rapper, is her father. However, they've been spotted together many times, photographed together, and she's even said so on her Twitter page. However, it's still not a confirmed situation and fans don't know if it's a joke or if it's true. Even when she said it herself in 2016, fans still thought she was kidding.
9. She Does Not Share Too MuchM
While her social media pages are filled with cute anecdotes and beautiful photos, she also keeps her captions minimal and without much personal information. She's still young, but she knows how to value her own privacy. It's clear to us she's not looking to share too much of her life with the world since that's what she does for a living.
10. She Has More Followers
Her fiancé might have a lot of followers, but she has nearly double what he has. Ken Walker has 2.5 million followers on Instagram, but she's got almost 5 million. In fact, she's currently at 4.9 million followers on the channel, which means she's going to reach the 5 million mark soon.
Tell us what's wrong with this post? How could we improve it? :)
Let us improve this post!