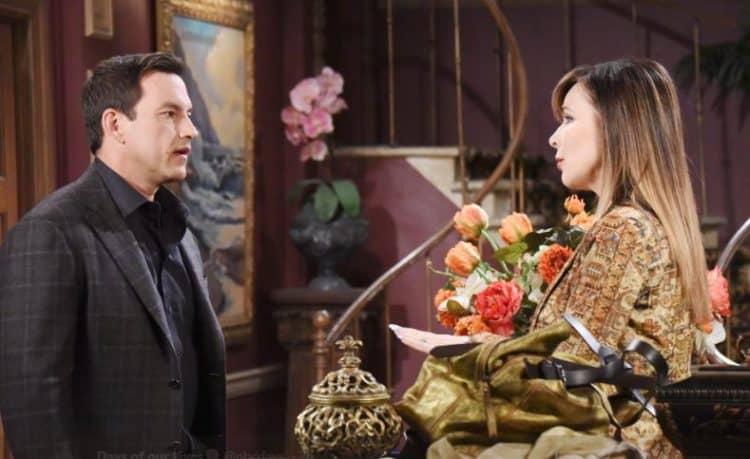 Days of Our Lives fans are not on the same page as Jack. Don't get us wrong. He wants to take the serum and get his old life and memories back, but we aren't happy surprised like he is that his wife wants him to do it, too. She's in full support of him, which we all know is not at all like Eve and her way of living. She's a manipulative woman, and that means her support is entirely conditional. And that is where we have a difference of opinion with Jack. He is happy she supports him, but he refuses to see the real story. She wants him to take this for a reason. Either she's slipped something in it to make it ineffective and he won't change, or she's going to use him and his situation to get something else she wants when his memory does return. We don't trust her, and he shouldn't either.
Then there is Xander, who has ended up in the middle of a fight with Rex over Sarah. My, how her life has changed so much in the past few weeks, are we correct about that? She's gone from entirely miserable to kind of miserable, to not really sure what is going on, to having multiple men looking out for her, arguing over her, and wanting to be with her. It's not something we take for granted, of course, but it is something that we think is beyond strange. And what about Jennifer, who is going to move on and go on a date? Here's Jack wanting to take the serum, and here she is trying to move on and date another man. Who is the lucky man? And will it work, or is she only trying to shift the focus elsewhere?
What's Happening on Days of Our Lives
.@BrandonBarash dishes on what it's like playing Stefan and what he really thinks of those sexy Gabi scenes. Later, @freddiemsmith goes behind the scenes to talk to #DAYS' on-set acting coach, Maria O'Brien.

Listen to the latest episode of Inside Salem: https://t.co/9vlZu6fkQB pic.twitter.com/ShyKxMuJR5

— Days of our Lives (@nbcdays) July 22, 2019
Don't miss this!
What's Next on Days of Our Lives
The drama heats up in Salem as Rex and Xander go head-to-head, and Jack seeks a divorce. Watch #DAYS, weekdays on @NBC. pic.twitter.com/FdTzZsQY34

— Days of our Lives (@nbcdays) July 19, 2019
Jack has some news to share with his son, and it might just surprise JJ. We are certain that news has everything to do with the fact that he is going to take the serum and get his memory back, and we appreciate that. There is so much going on here that makes that work for us, but we cannot figure out if that is good news or not. Meanwhile, we also know that there might be some fallback from this. Eve is supporting it, which means it cannot end well for Jack or his family. Will JJ support him, too? Or will he want his father to stop playing with their emotions and walk away into a new life that doesn't require any of this?
Stefan and Gabi are about done with Nicole. She's causing them a ton of stress, problems, issues, and situations that work in her own favor and not in theirs, and they are ready to deal with her. They are ready to handle her and make things change in their lives. She's done in their eyes, and they will spend this time getting ready to take her down. They have some ideas, and they are ready to discuss those ideas with one another in the meantime. For now, though, we are just enjoying them not knowing that Nicole has taken her own plan to Brady, and she's asking him to help her make it happen. Oh, and we were right about Eve. She's 'supporting' her husband by making sure he never gets his memory back taking some drastic measures.
Stay tuned for more Days of Our Lives and be sure to check out TVOvermind daily for the latest Days of Our Lives spoilers, news, and updates