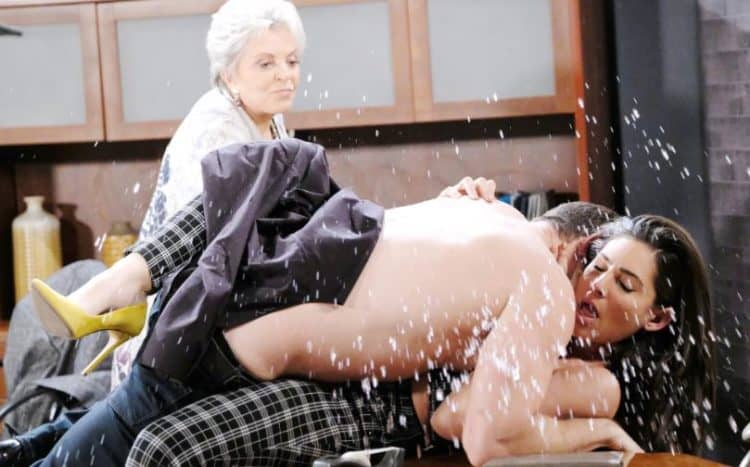 Days of Our Lives fans know that Hope followed Xander to the secret room where Ted and Kate are being held hostage. He's already in some serious trouble now that Kristin knows that they are alive. She'd instructed Xander to kill Ted, and she's not happy that he lied to her about it, but she's also now revealed herself to them, which is basically a death warrant. However, we all know that Hope will come to their rescue. She's reported Xander, and he is being arrested and taken to jail now that this has happened to him. He will not be able to keep them alive now that he's in jail, but Hope is more than a little uninterested in hearing all about his life and what that means for him. He's not going to be very happy, but we can expect to see Hope living a good life knowing that she did what she feels is the right and good thing.
Meanwhile, she's also in the middle of a few issues that might just make us all cringe a little. She's managed to create some drama where there doesn't seem to be any, and there's more. Gabi and Stefan have decided that they are no longer playing games. They both want more from one another, but will they both make sure they are willing to give one another what they are looking for? We aren't sure they have much effort in this one, but we can be certain that they are looking hard at what they want and how they want it. They are a couple who actually seems to work, but at what cost to everyone else? We are not entirely certain, but it works for us. Meanwhile, we feel that Lani and Eli might have some good news that is going to last them.
What's Happening on Days of Our Lives
Is there still a connection between Haley and Tripp? 👀 #DAYS pic.twitter.com/1sghvvf0TF

— Days of our Lives (@DaysPeacock) July 11, 2019
We might think it fizzled out just a bit.
What's Next on Days of Our Lives
Jack wants his memory back. Watch #DAYS, weekdays on @NBC. pic.twitter.com/CT7Dg9iQF8

— Days of our Lives (@nbcdays) July 12, 2019
We know that Xander is no longer feeling so good about Kristin and the plan that they had together. He's moved on from that, and he's about to get some revenge on her. She's got a lot going on in her life, and that means she is not entirely on her A game right now. She's a mess, and that is all right. We don't expect much less from her, if we are being entirely honest. For now, though, keeping him in jail will not have any effect on the way he is able to get to her. She might not have much to say or do about any of this, but she is going to find that some things are clearly better left unsaid. We don't know what he will say, but she's about to feel the brunt of his issues with her.
On the other hand, Eric has a big change to make in his life. The woman he is feeling for is not available, so that's off the table. He cannot find a way to make things work in his favor, and that's off the table, too. There is not a lot he has power or control over in this moment, and that's all right, too. He's ready to make some life changes, and he's not going to let anyone hold him back anymore. Of course, we all know that he will make some peace with all this just in time for Nicole to show up and change his feelings again, and that's too bad.
Stay tuned for more Days of Our Lives and be sure to check out TVOvermind daily for the latest Days of Our Lives spoilers, news, and updates.
Tell us what's wrong with this post? How could we improve it? :)
Let us improve this post!