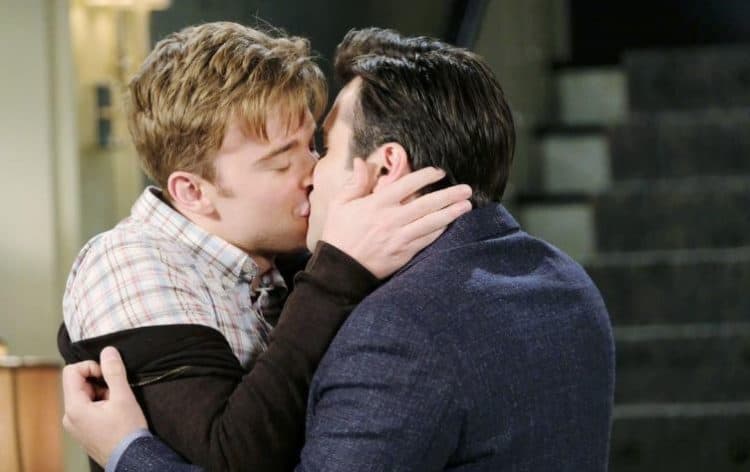 Days of Our Lives fans are not surprised that Ben and Ciara seem to be hitting it off and having so many feelings for one another at the moment. It's been a long road for them, and they seem to have found some love and romance with one another. We all thought she was just a little crazy when she made the decision to give Tripp a second chance after he was so careless with her heart. When he kissed Claire knowing that it would end up badly for Ciara, he was not thinking of her feelings for him or his for her. He was thinking that he had feelings for another girl, and that was not the foundation on which we all wanted to see Ciara put her love and her time. And now he's trying to get a second chance, but Ben managed to make sure she could see that this would not work.
And then they kissed. And it's not like that's a bad thing, but we want to be sure she's being careful with her heart and her stuff. She's not in a good place at the moment, but she is looking to make some solid decisions about her life and the people in it. She has a chance to see if she can keep her situation under control, but we are not entirely certain that she's capable of getting into this with an open mind and not without bringing her past hurts with her. She's a mess, and that's not something she's capable of handling on her own. But we think she might be able to find happiness with him if he can find a job and stick around and make his situation here work. He's a little out of options with all the people who aren't looking to hire a former murderer — not really something you can leave behind.
What's Happening on Days of Our Lives
Marci Miller talks about her final #DAYS episodes and other cast members react to fan feedback! Listen to the full podcast now on https://t.co/5puWd28reS & the NBC app: https://t.co/G1aBQxE7TS pic.twitter.com/v0XZV9IQAI

— Days of our Lives (@nbcdays) November 24, 2018
We love things like this, and we want to keep reminding you that you can find the time to see it for yourself if you get to it. This is for the fans, and it's not your job to miss out on things like this at all.
What's Next on Days of Our Lives
Will and Sonny reunite but get a shocking surprise. Plus, Ben and Ciara share their first kiss! Watch #DAYS, weekdays on NBC. pic.twitter.com/OAtDLcIqTi

— Days of our Lives (@nbcdays) November 21, 2018
Kate is not happy with the way things are going for her at the moment, but that will not stop her from making sure she can tell Roman that she's got what he needs. She's been working hard to get information on Stefan that will bring him down and do what Roman wants to do, and that's so much what she wants to do at the moment. She's been in a bad place for a while now, and we cannot help but assume that she will be able to make this work for her. She can get her end of the deal worked out if she can get Roman to take the information she's gotten for him. She's got something good, too, and that will work for her.
But then there is the fact that Kayla has been working so hard to set her up. She's not happy with the way things are going, and she's not going to let it continue. But Kayla is not going to back down, either. She's not the kind of woman who is afraid of a woman like Kate, so she will not stop what she feels she needs to do to get her life back together and to help Abby. She knows that Kate and Gabi are up to something, but she has to find a way to prove it and to make sure she can get them to stop before it's too late. Can she do it?
Stay tuned for more Days of Our Lives and be sure to check out TVOvermind daily for the latest Days of Our Lives spoilers, news, and updates.