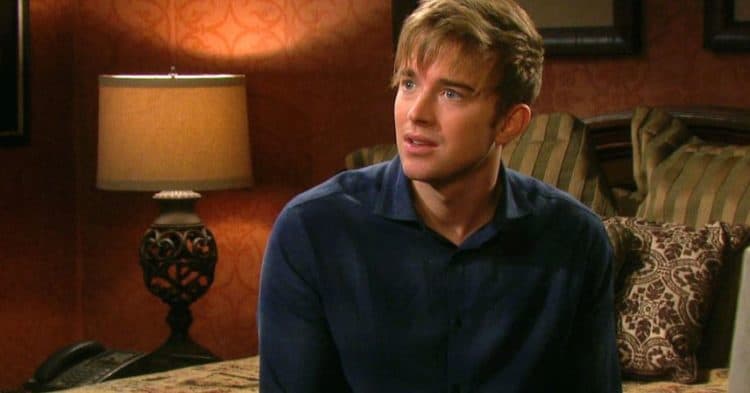 Days of Our Lives fans watched some serious moments unfold this week. We saw that there is apparently nothing – now — that can stand between Chad and Abby. It doesn't matter what legal issues she is facing. He is there for her. He will not allow the fact that she slept with another man, that she's guilty of murder, or that she was suffering from two other personalities taking over her body to keep him from loving her. He did allow her death to stop him at one point, and a few other lesser things, but this is where he draws the line at not wanting to be with her.
We also saw a very shocked Will see Ben at his door. Ben just wants to apologize, but we don't really believe that. He wants to tell Will that he's sorry for what he did to him, but we have to wonder if he feels the overwhelming need to apologize to anyone else he did wrong over the years. He didn't show up at Abigail's door and apologize to her for what he did to her in her life, but whatever.
And we also saw that Theresa simply will not allow Brady to not be with her. She's made it very clear to herself and to Xander that she will get what she wants, and she will not allow anyone to stand in her way. She's crazy, but we've known that for some time. She's on a mission, though, and we saw her make sure that her goal was announced to the world. We also saw that Kayla finally agreed to everything that Stefan asked of her. She loves her husband so much more than anything else in the world, and she's willing to work with this horrible devil to ensure that she can get her husband back his vision.
Finally, we saw Hope come down hard on Marlena. She had to do her own job and give her professional opinion regarding what is going on with Ben, and she did that. She certainly is not the kind of doctor who allows her personal feelings to get in the way of what she needs to do professionally, but Hope is not happy. We get where she is coming from, and so does Marlena — but there's nothing she can do about that. No one, however, is more upset that Ciara after finding her boyfriend in bed with Claire. This is a moment she will never forget, and she is stunned to see them there after all they've been through.
What's Up On Days of Our Lives?
In the latest #DAYS, Ciara is stunned to find Tripp and Claire in a compromising position.https://t.co/70zOJaOWU0 pic.twitter.com/Ys3VwU0wgN

— Days of our Lives (@nbcdays) June 6, 2018
There's just some sadness in the air as Chad and Abigail stand by one another in her moment of need, especially considering the fact that he is going to get a new wife soon. Not because he's leaving her, but only because she is leaving him. She's left the show, and soon it won't be Marci Miller he's standing by as he stands by his wife.
While we have no confirmation this is true in any way, we want to bring you the news that Sami is slated to return to Salem in the very near future with a little surprise of her own. She is pregnant, or she is showing up with a new baby. Whatever it is, we have to wonder if there is a chance that this baby might have anything to do with Rafe?
What's Happening Next on Days of Our Lives?
Unfortunately, not much is happening next. Fans are disappointed to hear that there is not going to be a new show until Monday. The network is not airing any of the soaps today or tomorrow due to the fact that the French Open is on, and that is more important at the moment than showing the entertainment of this show to fans. Sports fans are all right with that, but soap fans are less so. The show will be back with brand-new episodes on Monday, and that means there will be more to discuss next week as it makes its return.
Stay tuned for more Days of Our Lives and be sure to check out TVOvermind daily for the latest Days of Our Lives spoilers, news, and updates.
Tell us what's wrong with this post? How could we improve it? :)
Let us improve this post!