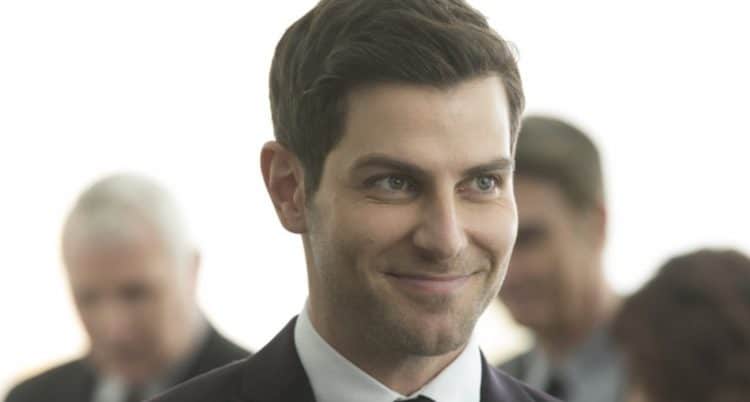 David Giuntoli is an American actor who is known for playing the part of Detective Nick Burkhardt in "Grimm" and now he's a big part of "A Million Little Things." He's been popular since he first began his professional career as an actor. His performance in the NBC supernatural drama has gotten him a lot of positive attention from fans. His base of followers is growing steadily and there is a demand to know everything that can be shared about his personal and professional life, so here are 10 things that you probably didn't know about David Giuntoli.
1. His Birthday
Giuntoli was born on June 18, 1980. This made him 30 years old in the summer of 2019. His birthplace was Milwaukee, Wisconsin. He works under the name that his parents gave him. Although he was born in Milwaukee, the family moved to St. Louis, Missouri. This is where he grew up in the St. Louis suburb called Huntleigh. His mom and dad are Mary and David Giuntoli. His mom is of Polish and German descent and his father of Italian ancestry.
2. He felt awkward in high school
David talked about what it was like for him when he was growing up. She shared that his head was big and he wasn't very tall until he hit his sophomore year in high school. This is when he grew into his head. He felt that he was "an awkward little fellow." It was when he was in high school that he began to develop a strong interest in acting.
3. David is a college graduate
David attended the St. Louis University High School. He graduated with his class in 1998. He made the decision to attend college. He enrolled in the International Business and Finance program at Indiana University Bloomington. In 2002, he graduated with his bachelor's degree.
4. He had to make a big decision after college
David Giuntoli spent four years of his life working towards a degree in International Business and Finance at Indiana University. He put time and money into earning his degree, but his heart really wasn't in a career in finance. His deepest passion was to become an entertainer. He was fortunate that his family understood that from early on he was good at making people laugh. He returned back home to St. Louis with his degree in hand and visited his high school theater teacher to start acting lessons. This was in 2002 and by 2003 he would launch his new career as a professional actor.
5. He was discovered in 2003
David Giuntoli got his first big career break when MTV talent scouts discovered him. He was cast in the reality series "Road Rules" in 2003. This led him on a 3-month hiatus to the South Pacific for filming. It led to a second appearance for "Real World/Road Rules Challenge in the seventh season. He used the proceeds from the job to pay off the remainder of his student loans and decided that he was in it for keeps as a professional actor.
6. He moved to Los Angeles
After deciding to become a full-time actor, David moved to LA in 2007. He took acting lessons from director and teacher Chris Fields, then joined the Echo Theater Company. He secured a lot of guest appearances on a variety of television series, which gave him great exposure. These included "Cold Case," "Without a Trace," " Privileged," "Ghost Whisperer," "Grey's Anatomy," "Veronica Mars," "Nip and Tuck," and others.
7. He almost got the role of Superman
David Giuntoli threw his hat in the ring for the title role of the new Superman movie "Man of Steel." He auditioned for the part and he made it past the first wave to become one of the candidates who were seriously being considered for the role. He was close, but in the end, it was Henry Cavill, an English actor who ended up being cast in the role.
8. His biggest break was in "Grimm"
David is best known for his role in the television series Grimm. This has been his biggest role to date. He appeared as Nick Burkhardt, a Grimm detective for 123 episodes of the six-season run of the show that began in 2011. While still filming episodes he was involved in a supporting role for the film "Caroline and Jackie," as a supporting actor, as well as the Michael Bay film "13 Hours" as DS agent Scott Wickland. He also appeared in the lead role as the character David in the film "Buddymoon." Although these were all significant roles for him his popularity soared to great heights when he appeared in "Grimm."
9. David Giuntoli is married with a family
Giuntoli was previously in a relationship with former castmate of "Road Rules" Cara Zavaleta, but the relationship didn't work out. He starred with Bitsie Tulloch in his Grimm" television series where the two met and fell in love. The couple was married in June of 2017. They made their home in Los Angeles, California. They announced their pregnancy in October of 2018 and in February of 2019, they welcomed their first child into the world. Their baby is a little girl named Vivian.
10. Fans can follow him on Instagram
David Giuntoli is a big star on social media. He has an Instagram account and this is a treasure trove for his fans. So far he has made 134 posts and you can find some great photographs of him in his personal and professional life activities. He's done a good job of keeping people informed about cool things that are going on in his life, and you can occasionally find some information about the new series he's been cast in since 2018, "A Million Little Things." David has a total of 451 thousand followers on his Instagram account and he's following 129 himself. If you want to keep up on what is trending with David Giuntoli, you may want to consider following him on Instagram.