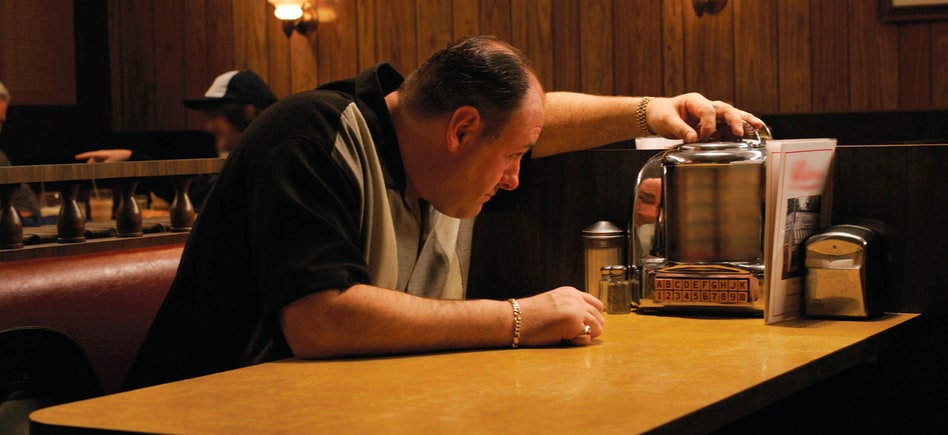 Give props to David Chase for trying to quell any doubts about whether Tony Soprano is alive or not since a lot of fans were debating over and over after the season finale whether or not the head of the family was gunned down in the restaurant in front of his family or actually made it out since we didn't see the act happen. Given all that went down over six seasons of the show there's a lot to be said about how it could have turned out and how it actually did end. A lot of people were likely planning on seeing the end of Tony before the credits, but obviously that wasn't the plan. Admittedly, as Zack Sharf of Yahoo makes it clear, Chase rendered an imagined scene that could keep some people happy and make them think that the mob boss finally got what could be called a happy ending of sorts, but in a big way it does appear that this goes against what so many movies and TV shows concerning the mafia have taught us, that there is no such thing as a happy ending apart from what might happen to those that are the last individuals standing. Even those that don't meet their maker by the end of such dramas tend to be tortured beyond belief by what they've done or what they've seen. Even Tony isn't immune to this as it's been seen throughout the course of the show, which makes his final moments, whenever they would possibly come, appear all the more meaningful since for those in the life it definitely appears that death is a kind of relief after having spent a life among the treachery and constant fear of being gunned down for one reason or another.
As Chris Evangelista of SlashFilm reveals, the ending to The Soprano's was meant to be very different than what happened, though he still doesn't really go into what might have happened aloud, as his utterance that this final scene was to be the 'death scene' was dialed back when he was in talks on how he wanted it to go originally. That sounds absolutely ominous to be fair, but at the same time it would have been a lot less open-ended as well. It would have been a definitive end that a good number of people might have enjoyed a little more than the ending that left fans wondering just what happened and what Tony's fate might have been. In a show such as this there are definite constants that emerge fairly quickly, and one of them is that no one is safe, no one is off-limits, and sooner or later, everyone's ticket is going to get punched in one way or another. That's the life that each person in this drama chose after all, and such a life doesn't necessarily come with the expectation of dying after a long and full life. Unlike a lot of movies and shows that will actually reveal just what's happened to the main characters however, The Soprano's exited with a twist that a lot of people didn't see coming right from the start. Doing this could have been a huge risk when it came to the legacy that the show would leave behind, but at the same time it's kept people talking ever since the show went off the air, as even now a lot of folks have their own theory as to what happened and why. Trying to argue that Tony lived is a theory that some people would do without any prompting, but it's a harder position to back up if only because thanks to the life he lived and the knowledge that he was marked solely because of who he was.
The act of showing people a scene in which Tony lived is almost, in a way, kind of cruel since it gives a lot of people hope that one of their favorite characters from the show might have actually been given a reprieve from his expected fate. But given that it's an imagining, a scene that doesn't belong with the show as a whole, it's also something of a hope that could bolster the theory of those that believe Tony was able to continue onward and find a way to possibly live with all the things he'd done and continue to push onward through a life that had been beset by a great deal of stress. The role of a mob boss has been highly glamorized in the movies and on TV, and while it's likely that some of what is depicted is real, a lot of the show is to be taken as pure drama since no matter how the lives of those in organized crime actually went, it's a good bet that the danger was too real most of the time.