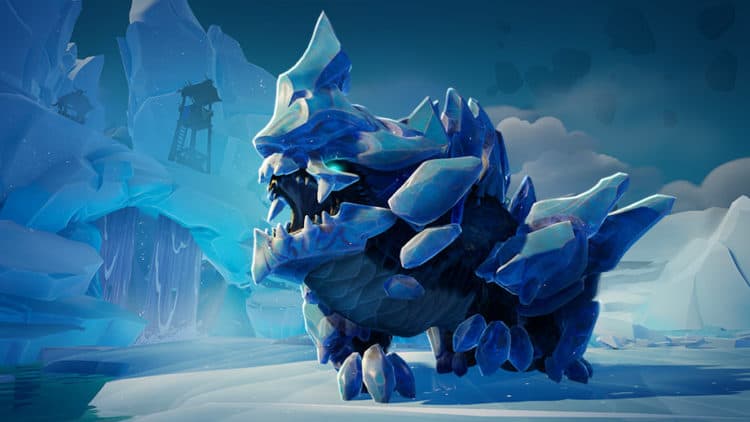 Dauntless Patch 1.5.3 is coming pretty soon, but what is Dauntless? Dauntless is a free-to-play game developed by Phoneix Labs and Iron Galaxy and recently published by Epic Games. The game is incredibly reminiscent of Monster Hunter: World with many features seemingly coming straight from the Capcom classic. However, Dauntless includes a major feature that has yet to be seen in Monster Hunter: World – full platform cross-play. Dauntless supports cross-play on all platforms including PlayStation 4, Nintendo Switch, Xbox One, Android, and the Epic Game Store on PC. A new patch is coming to Dauntless soon and it promises a ton of new features, a new boss, and a new Hunt Pass. So what else can we expect from Dauntless Patch 1.5.3?
Frost Escalation
Frost Escalation is a brand new Escalation coming in Dauntless Patch 1.5.3 and launched on February 4, 2021. In Frost Escalation, you will fight off the chilly frostbite status effect, face new Deepfrost Behemoth variants, power up your Escalation runs with avatar abilities, and you will be able to complete the Realm of Ice Hunt Pass. What are Avatar Abilities you ask?
Avatar of Destruction

Increases your critical strike chance. Your critical hits reduce frostbite for all.

Avatar of Control

Increases your stagger damage. Reduce frostbite for all when a Behemoth is staggered.

Avatar of Unity

Grants a small chance to reduce frostbite when you hit and creates a shield for all party members. Two-second cooldown.

Avatar of Subtlety

You deal bonus wound damage. Reduce frostbite for all when a Behemoth is wounded or has a part broken.
You can even amplify your Avatar Abilities even further over the course of an Escalation run by choosing amps that directly improve your specific ability. Once you choose a starting Avatar Ability, these special amps will unlock and become available for your run.
Deepfrost Behemoths
"The harsh biome of Skaldeskar has mutated a number of Behemoth species with powerful frost aether."
Dauntless Patch 1.5.3 also introduces a couple of brand new Behemoth variants known as the Deepfrost Skarn and the Deepfrost Gnasher, and the Deepfrost Embermane. The Deepfrost Skarn has sharp protective blades of ice while the Deepfrost Gnasher has a knack for hurling spheres of snow at unsuspecting players. The Deepfrost Embermane, or as the Skaldish call it the "Frostwülf" can summon aether-fueled minions to its aid in combat. Yikes, I'm gonna watch out for that one – focusing on more than the boss is bound to be trouble for some. I think that the addition of these new Behemoth variants is pretty cool, I love ice monsters and we've just gotten the Monster Hunter World: Iceborne expansion, so it looks like Dauntless is taking a page out of Capcom's book for the inspiration for this latest patch.
Realm of Ice Hunt Pass
The Realm of Ice Hunt Pass is Dauntless' answer to Fortnite's Battle Pass and so many other games' season pass model. In the Realm of Ice Hunt Pass, you'll be able to unlock the striking armor of Skaldeskar as well as both the Frost Shaper and Paladin of Vylmark armor sets by completing the Elite track of this Hunt Pass. I don't really have a problem with these "Battle/Season/Hunt/Whatever you want to call it Pass" systems as it continuously gives players something to work towards completing every couple of weeks/months (depending on the length of the in-game season), the only issue I have is when every live game introduces a seasonal model, then you're forced to choose which one you want to play and leave the rest behind. Though with Dauntless being free-to-play and other games like Destiny 2 being a (mostly) full-price game that also includes a paid season pass, I understand it more for Dauntless since the premium season pass is their only source of revenue outside of those god-awful microtransactions that no one likes. In order to earn Hunt Pass experience, you can either slay Behemoths, complete bounties, or gather daily collectibles – a combination of all 3 activities will net you the most experience and quickest progress throughout the Hunt Pass.
Dauntless Patch 1.5.3 Quality of Life Improvements
There are also some quality of life improvements coming in Dauntless Patch 1.5.3 including:
Gameplay
Increased player "stickiness" on Behemoths to make sure players no longer slide while attacking them.
Quests
Ozz's shop now has two separate tabs: Event and Rumours
Players can now preview all steps in a rumour's quest chain by talking to Ozz, navigating to the Rumours tab, and selecting "Preview Rumour Steps."
Pay-to-skip options in rumour quests now makes it clear that the skip is for a single step – not the entire chain.
UI
Improved the UI for the frozen status
Rumours now have custom quest markers
Crafting menus will now show which parts you are missing when crafting an item
Performance
Fixed an issue where some players couldn't launch Dauntless on older versions of Windows after Patch 1.5.2
Miscellaneous
The Crown of Friendship will no longer appear in your Slayer Links reward pools if you already own it
Tell us what's wrong with this post? How could we improve it? :)
Let us improve this post!