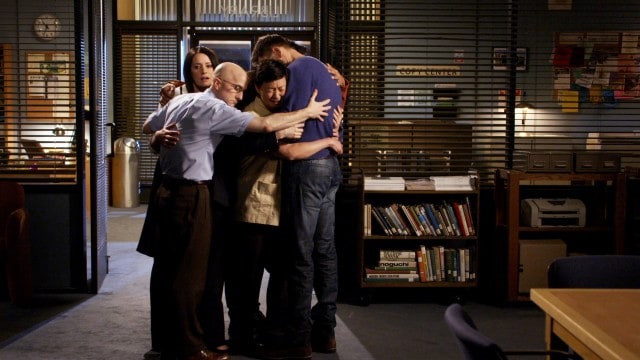 Community fans might remember the slogan "six seasons and a movie," which was used as a rallying cry to save the series after it had been cancelled by NBC. A number of relevant parties such as Netflix and Hulu turned down the idea, but in the end, Community managed to get a sixth season of 13 episodes when Yahoo! decided to order it for Yahoo! Screen. However, it was clear that Season 6 would be the last season at an early point in the production process for the simple reason that the cast members' contracts were coming to a close, meaning that it would have been too much of a challenge to film a seventh season with their scheduling conflicts. As a result, the series creator Dan Harmon decided that it would make more sense to do a movie at some point in the future when those scheduling conflicts had cleared up, which would have fulfilled the "movie" part of "six seasons and a movie."
Is the Community Movie Still Happening?
For some time, there has been serious concern that a Community movie was not going to happen. In part, this was because of the time that has passed since the sixth season was broadcast in 2016, which is an understandable concern because the passage of time often means a bleeding of the momentum behind projects. However, it should also be noted that Yahoo! Screen has since come to a close as well, having been outcompeted by its bigger and better-established rivals such as Netflix and Hulu to the extent that keeping it running no longer made sense. As a result, it was not unreasonable for a lot of Community fans to suspect that a Community movie would never happen without its most recent home.
Recently, Dan Harmon stated that he still believes that a Community movie will be made at some point in the future. In fact, he made mention of the fact that he speaks with Justin Lin and the Russo brothers on a regular basis about what the project would look like as well as how to secure the necessary funding for the project. For people who are unfamiliar with those names, Justin Lin was one of the directors for Community who went on to direct a number of well-known movies such as Star Trek Beyond and not one, not two, but four of The Fast and the Furious movies, while the Russo brothers were directors as well as executive producers who went on to direct the last two Captain America movies and will be directing the two Avengers: Infinity War movies. Combined with the fact that the cast members have stated their interest in a Dan Harmon-headed project as well, the series creator's confidence that a movie will be made is far from being baseless.
Of course, while there seems to be a fair amount of influence lined up behind a Community movie, interested individuals need to remember that this is not a confirmation that it will be made. As a result, they need to keep their expectations at a reasonable level while waiting for further news to come out about further developments.