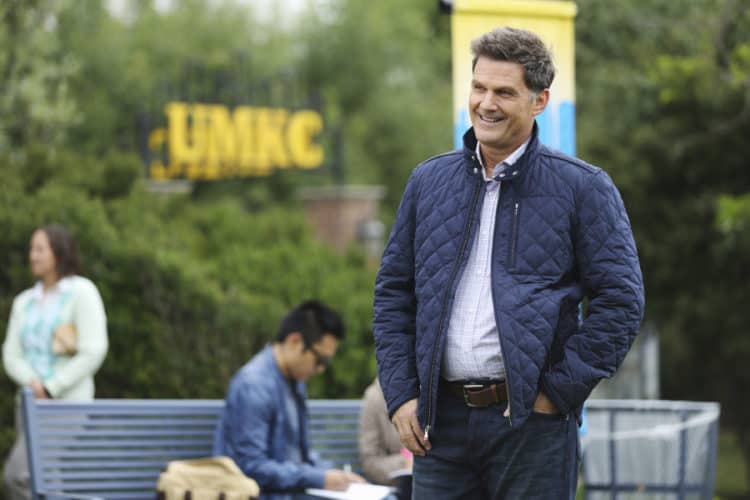 For someone that's been so prolific in theater, TV, and even in the movies, one might expect that D.W. Moffett might be a little more popular and that his name might be a little more well-known given that he's been around for a while and has been associated with several very big names throughout his career. But this is just more proof that unless your name is known, a person can slip through the cracks of public consciousness pretty easily. It's simple to say that people will remember him on sight, but trying to get folks to call him out by name is likely to be kind of difficult since as it happens with many actors he's just one of those that is remembered for the roles he plays, not necessarily for his own name. Born Donald Warren Moffett, he abbreviated his name to keep from being confused with a British actor that had roughly the same name, albeit with a different spelling. Ironically though it's likely that the other actor might be recognized by his own countrymen for his name while Moffett is easy to recognize from past roles but isn't exactly someone who will be recognized solely by his name, as the average person might need to be given a list of his accomplishments to really remember him.
There are likely plenty of people that would be flabbergasted by this since they either know Moffett quite well or have seen many of his performances, but the thing about show business is that there are that many actors that losing sight of one or more of them is quite simple since trying to keep track of them all is nearly impossible for one person. Trying to keep up with a group of them is hard enough, but trying to remember every single name and what they've been in over the years is something that would require a memory that's like a working encyclopedia of nothing but movie and TV facts that could be accessed at any given time. The fact that Moffett has been around so long is enough to wonder why his name hasn't been remembered a little more but at the same time, it's easy to figure that out since it does appear that he's been a supporting actor quite often and either tends to star in movies and shows that are there to fill a specific niche or he stars with people that overshadow him quite a bit. In some cases, this latter practice can end up ruining a person's chances of ever becoming someone that's known far and wide to the public since trying to become known while standing in the shadow of other actors can be a tricky business.
When one really looks at show business it's eventually seen that there are different levels of fame that people fall into over the course of their career and no matter how many movies or TV shows they star in it's bound to happen that they'll fit into one category or another as they continue forward. Moffett's career rests on stable ground at least but it's fair to say that if he's going to be known by his name outside of those that know him it's likely that he would have to do something extraordinary and really shine in a way that people would recognize since otherwise, it feels as though he's bound to be stuck right where he is. At the very least, where he is at the current moment is in a pretty good position to keep working and continue to be someone that people will recognize and want to see more of since he's been an effective actor for many years and someone that can serve as support for a lot of other actors in one production or another. The fact that he had no plans to go into acting when he was younger is kind of funny since he took up acting as something to do and to meet girls apparently. But as fate would have it, something came of that, and here he is years later, still doing what he obviously came to enjoy after so long and finding his way into one project after another.
The guy is still working obviously and is bound to be around for a while longer barring any unforeseen tragedy or hiccup in the process, but whether or not his name is going to be known to many others at some point is hard to say since it's very likely that he'll continue to be the great supporting actor that he's been for a while, but becoming much more than that will, as mentioned, take a pretty big feat to accomplish. Not everyone is destined to be a big star obviously, but sometimes just being a part of the business is enough.