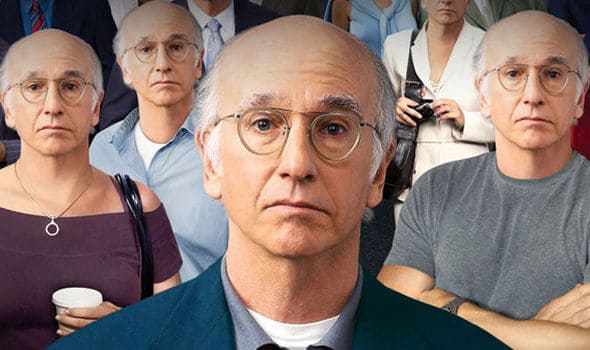 The popular HBO comedy "Curb Your Enthusiasm in entering into its ninth season and now that Larry David is back, it is set to deliver twice the comedy. The premiere of the new run was a smashing success, as we could have predicted. If you're not currently watching it, we recommend that you preview a sampling of the season opener because it is likely to change your mind about tuning in. But just in case you're in need of some nostalgia, here are some finer moments of the show's history.
1. "Pant raise"
This is one of the funniest moments of the premiere episode. Cheryl and Larry had had a prior discussion about the embarrassing moment that had happened when Larry had an erection in front of Chery's friend Nancy. Cheryl pulls Lary into the living room where Nancy is waiting on the couch for his full explanation. It's great to see Larry so flustered and embarrassed as he is forced to discuss the misunderstanding that had taken place between them. Larry tried to deny the fact that he had an erection after the movie had started. Nancy called bs on him and told him that she noticed that he got an erection after she started to rub his arm. This is one of the more hilarious moments of the first show of the season.
2. "Larry's guide to dating"
This is another special moment as Larry presents his guide to dating. If you're easily offended there are a few clips in this video that might bother you as Larry is shown in the heat of passion. This old guy has a rockin' philosphy on how the dating game should be played and he gets his share of attention, but having an intellectual discourse during sex?
3. Larry's never sorry
Upon hearing for a beautiful woman that her dad passed away two years ago, Larry doesn't make a comment. She's obviously offended and when he enquires, she told him that he should have said that he was sorry. Larry of course, begged to differ with her, letting her know that the window of sorry's closed a long time a go and that after two years, she shouldn't expect to hear those words anymore. He wasn't giving it up As usual, Larry held his ground.
4. Larry takes on the judge
One of the worst things that Larry could have done was to challenge the judge in front of a court room full of spectators, but this is exactly what happened.
5. Busted shoelace
The opening scene shows Larry in the shower and he's not having any luck getting the shampoo bottle to open. Immediately afterward as he's just finishing up with the dressing process, he pulls the shoelace on his tennis shoe tight only to have it break in a spot that makes it tough to repair. This is an indication of how the rest of is day is going to unfold.