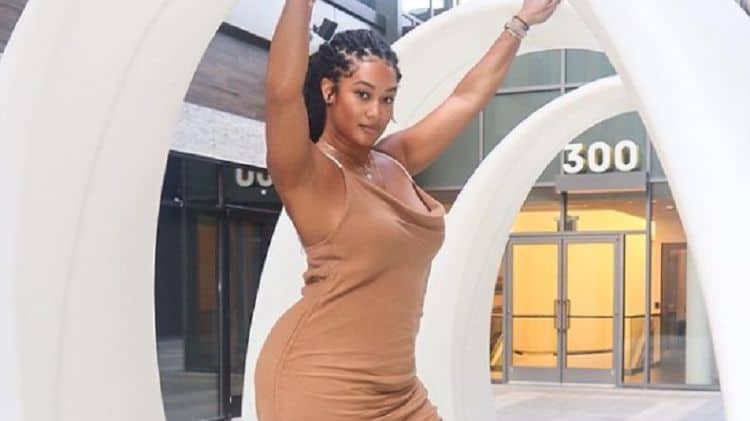 Timing is everything, and Crystal Hayslett's career is proof. Although she's been in the entertainment industry for a little more than 10 years, it wasn't until 2019 when she got the chance to truly shine in front of the camera thanks to her role in the Tyler Perry series Sistas. Now, with a significant role under her belt, Crystal's fan base has grown tremendously and she will likely see more opportunities opening up for her in the future. She doesn't have any new projects in the works at the moment, but in a short period of time Crystal has already shown the world that she's here to stay. Keep reading to learn 10 things you didn't know about Crystal Hayslett.
1. She's From Tennessee
Unlike many other performers, Crystal isn't someone who grew up thinking that she was going to work in the entertainment industry. She was born and raised in Tennessee and was initially focused on following a more traditional career path. She attended the University of Tennessee at Martin where she earned a bachelor's degree in mass communication and public relations.
2.She Has A YouTube Channel
These days, creating good online content can help boost a person's career in the entertainment industry. Crystal has decided to share her talents with the YouTube world. Through her channel, she posts a variety of videos, but most of her content consists of hair and makeup tutorials. Her channel only has 2,800 subscribers, but she's gotten almost 30,000 views.
3. She Got Her Start Behind The Scenes
Since Sistas is Crystal's first big role, some people may have gotten the impression that she's kind of new to the industry. However, that couldn't be any further from the truth. She has been working as a costume designer/stylist for several years, and that work is actually what helped open the door for her to act.
4. She Used To Work On Capitol Hill
Working in the entertainment space is a complete 180 from what Crystal originally planned on doing. Crystal told Essence, "Right after college I worked on Capitol Hill for a little while, but ultimately it just wasn't for me. Politics wasn't my passion, and I'm such a creative, so in 2009 I left DC and moved to Atlanta…"
5. Her Faith Is Important To Her
Crystal hasn't gone into specific detail about her religious beliefs, but we do know that she is a Christian and it's obvious that her faith in God plays a major role in her life. She credits God with allowing her to achieve the amount of success she's had so far, and she is praying for more in the future.
6. She Likes To Travel
Crystal is definitely the kind of person who believes in living life to the fullest. She loves having new experiences and traveling has given her the perfect way to do that. She has gotten the chance to visit lots of beautiful places all over the world and she plans to add more destinations to the list in the future.
7. She Understands The Importance Of Patience
Crystal's journey through the entertainment industry hasn't been easy. After making a huge transition from her job in Washington D.C. it took her a while to find her footing. While talking to Essence she said, "It's 10 years from the time I moved to Atlanta to me getting the part on Sistas. But I feel like that's the part a lot of people don't see is all the years of questioning myself, wondering if I should give up on acting altogether and just focus on styling, wondering if I was good enough."
8. She Likes To Exercise
Staying in good shape is one of the things that Crystal has pretty high on her priority list. Crystal enjoys staying active in a variety of ways including hiking and lifting weights. Her regular exercise routine doesn't just benefit her body, it's also very good for her mind.
9. She Likes To Cook
Even though Crystal's schedule can get pretty busy, she still finds time to get in the kitchen. Crystal enjoys cooking and the extra time she spent in the house during the COVID-19 quarantine gave her more time to work on her cooking skills. Occasionally, she'll even upload a cooking video to her YouTube channel.
10. She's A Singer
Acting and styling aren't the only creative pursuits Crystal enjoys. She is also a very talented singer who has worked on her own music. She released an EP called Hello in 2012. We didn't find any information on whether she has plans to put out another project.