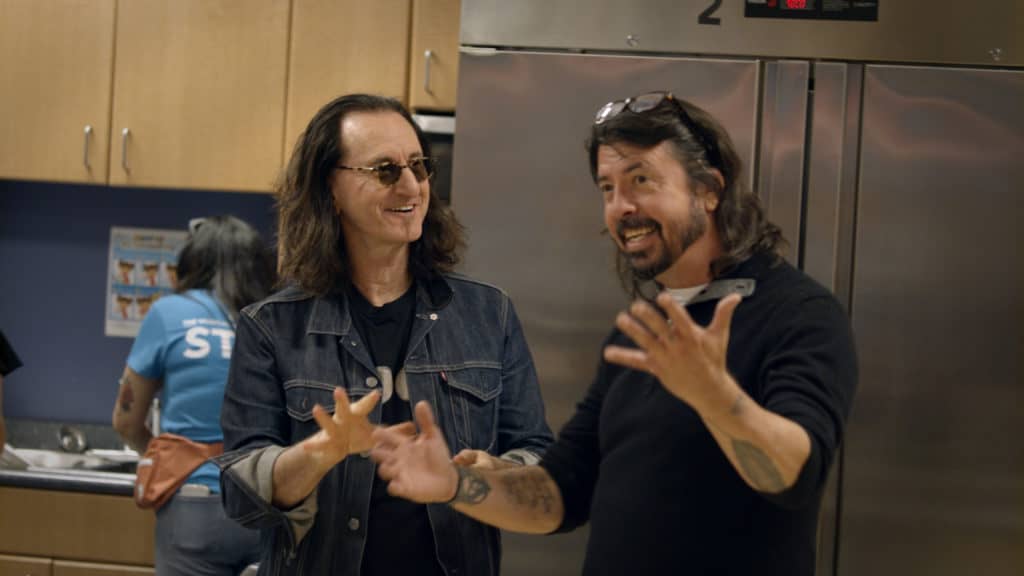 The story of famed musician Geddy Lee begins with his mother, Mary Weinrib, without any doubt. After listening to the stories that Mary and her husband went through during WWII and the lengths that he took to find her again, there's no doubt that fate is a fickle thing, but it's still very real, despite coincidence and any other explanation that folks might want to interject with. The concentration camps that were prevalent in the days of the second world war were no joke, and many upon many people never left them on their feet. But listening to the story of how Mary and her husband met, how they reunited, and the fact that Geddy Lee and his siblings were regaled with the tales throughout their lives, it's very easy to believe that some of the tales might have been exaggerated or embellished, it's human nature after all, but the core story remained the same.
There might be those wondering what in the world this has to do with Geddy Lee's career or how he came up as a musician, but there's simply not enough room in this article to tell that tale. Putting it simply, if Mary and her husband had never found each other, there might never have been a Geddy Lee. And had Geddy Lee never existed, it sounds as though Dave Grohl might have been listless and never discovered what it was like to be a drummer. The cause and effect chain that goes into this story is amazing, and it's been continued onward with Violet Grohl, Dave's daughter, as she appears to be an aspiring musician that now has every possible advantage heading into what might be a career choice if she decides that this life is for her. After listening to her sing, it's very likely that this could happen, and that Dave couldn't be prouder.
It's been an interesting series on Paramount+ to be certain, and as of now, there's no indication that it might continue as it hasn't been picked up yet. But having gone through the past six weeks learning more about some of the most famous musicians in the music industry it's been a pleasure to see what it's been like for them growing up and how their families, their mothers especially, have handled the long and arduous road to fame. Some have been insanely supportive, meaning they haven't batted an eye when their kids wanted to drop out of school to pursue their passion, while others have taken a while to come around but have always shown their kids the kind of love that they could provide, even if support for their career choice wasn't as firm as it could have been.
The point is that the mothers of these rock stars that have been showcased over the past six weeks, and other mothers as it was shown near the end of the finale, have gone to tremendous lengths to support their kids, and in doing so have provided a stable base that each musician has found highly beneficial to their mental and spiritual well-being. That kind of support shouldn't be hard to come by, but anytime an individual moves towards an industry that's not guaranteed to bring success but has a one in a thousand or one in a million chance of catapulting a person into a successful existence, the pressure isn't just felt by the individual. Those that raise these folks, these rock stars, want the best for them, and they support them as much as possible, but it's hard without any doubt to watch them go through the hardships that are, in many ways, a rite of passage for anyone that dares to step outside society's norms.
Artists, no matter if they're musicians, painters, authors, or any other type of artist, tend to suffer more than a little at times for their craft, largely because while it is a big-money endeavor for those that luck out, it's also a career choice where thousands, if not millions, of people, are vying for the same attention. Geddy Lee didn't have his mother's full support at first it sounds like, but as time went on she saw what he was into, what he was doing, and through it all, she supported him as a mother, but eventually, she came to support his vision and his career, as one would expect a mother to do. Her experiences, her life, all of it led up to his upbringing, and in time, his life inspired others such as Dave Grohl, who is an inspiration to his own daughter, and many others, who might go on to inspire others in the future. If anyone wants a quick but somewhat vague explanation of what art is about, be it music or anything else, it's about feeling what's there, adding your voice to the mix, and inspiring those that will come after you to keep the music alive. That's one thing it's about anyway, the rest is simply too much to expand on at this time. But much as I always say the story will go on, so will the music be playing as it does.
Tell us what's wrong with this post? How could we improve it? :)
Let us improve this post!