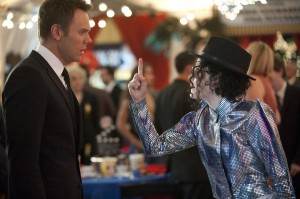 In a perfect world, this episode of Community would have been the first episode back from winter hiatus. Instead, on a balmy spring night, we're sitting around in our houses while the study group talks about their new year, and…ah, well. No complaints, right? I didn't think so.
Turns out that a lot of stuff went on with the Greendale crew over break. Pierce digitized his entire movie collection, Britta got excited for her new psychology courses, and Jeff saw a new shrink — one that put him on anti-anxiety pills. Britta is intensely against this new development, as she feels keeping Jeff on the pills will cause him to become a hyper narcissist (essentially, Jeff needs his ego in order to keep himself from going crazy.) For once in her life, I think Britta's actually in the right here (and it turns out, she is) but it's still kind of fun to see Jeff refuse her help.
(Brief recap pause for a mention of one of the best moments of the night, and possibly of the series — Dean Pelton's reaction to Jeff in his aviators. Absolutely priceless…I love that the show went there.)
Where does a world exist in which Abed comes back from winter break with even more issues than Jeff? It may be harsh, but it's what I couldn't help but think when Troy revealed that Abed had been hiring celebrity impersonators to act out his favorite scenes from movies. The group isn't so sure this is a smart idea for Abed's finances or his mental health, but Troy convinces them that they should lay off trying to help or change him — 'it's not our job to help Abed grow up,'he says, defending his best friend.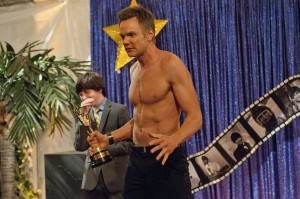 Chang has gone a little crazy with his security duties, which causes Dean Pelton to get upset – especially when Chang goes overboard with the use of his tranquilizer guns. Eventually, Dean Pelton relents and says that he can bring on some students as security interns. I wondered how the entire 'Chang Siege'was going to play out and it looks like tonight we got our answer, as Chang's round up of middle school Bar Mitzvah kids seemed to kick off the assembly of his new army. I can't decide if this is going to be a good or bad storyline for the character — I miss when we don't get Chang scenes, but I hate feeling like his storyline is forced into the show, as it sometimes has been.
As the group is eating lunch, Vincent (French Stewart) arrives to let Abed know he owes at least 3 grand, thanks to his obsessive hiring of impressionists. Being struck with the fact the study group seems to bear resemblance to a host of celebrities (Michael Jackson, Oprah, a 'taller Ryan Seacrest'- this was without a doubt one of the highlights of the night), he tells them that if they help out with an event he'll call it even. The group — Ryan Seacrest!Jeff, Michael Jackson!Britta and Troy, Jamie Lee Curtis!Abed, Oprah!Shirley, Judy Garland!Annie, and Fat Brando!Pierce reluctantly agree, and the magic 7 are soon off to a Bar Mitzvah of epic proportions.
An overconfident Jeff (who doubled the dosage of his pills, much to Britta's dismay) gets fawned over by most of the older Jewish mothers, while Abed has a grand old time mingling with other attendees and impressionists. (much to Vincent's dismay.) Britta spends most of the evening trying to keep Jeff in line as his ego threatens to burst over various interactions, while Troy attempts to keep Abed in line so that he can clean up the mess he's gotten himself in.
The pinnacle of Jeff's hysteria comes when Fake!Bono and Fake!Morgan Freeman hand out a series of awards to Howie, the Bar Mitzvah man of the hour. Naturally, he wins every single one, which unnerves Jeff completely — especially when he loses the award of 'most handsome young man.'Jeff finally snaps, with a Hulk-like attitude that involves ripping off his clothes, stealing the award and charging out of the room while flinging kids aside.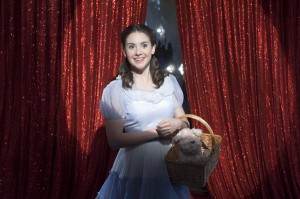 Oh, and did we also mention his mental break involved a kiss with Shirley? It was a copy idea for Community to take the reigns on that relationship in a way, so that you didn't have to take seriously if you didn't want to. Britta eventually finds Jeff on the side of the road and offers to take him home, but when Jeff suggests that he use her for her psych class study, Britta refuses. It's actually quite a grown-up move for Britta, who would normally take advantage of the most messed up person she could find just so she could exploit them for all their problems.
Troy returns home, having narrowly saved Abed due to the fact that Howie was extremely impressed to see 'The Incredible Hulk'show up at his party. When he finds Abed seemingly not caring about the consequences of his actions, however (and hiring more celebrity impersonators behind Troy's back), he gets angry and retreats to the blanket fort alone. When Abed asks him what's wrong, Troy lies at first and then gets upset, saying that he doesn't want to tell Abed what to do — he just wants to help him. Abed seems to understand and the two confirm that of course, they're still best friends – but the absence of the classic handshake and the subtle depressed nature of Abed's attitude seems to show not everything is cheery in Trobed land. Indeed, when Abed chooses to play in his dreamatorium alone (and is paid a visit from Evil!Abed, who reminds him he can get along just fine on his own) we see just how much the two may have to reconcile in the episodes ahead.
The tag of this episode is Chang mobilizing his new army — are we in for a 'Chang'in authority soon?
What did you think of the episode? What was your favorite moment?