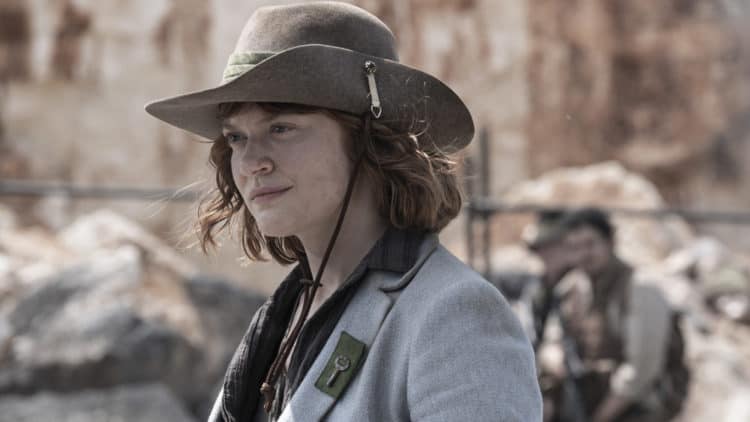 Colby Minifie isn't even 30 yet and she's already built a resume that includes nearly 50 on screen credits. From TV shows to films, Colby's ability to command attention has never gone unnoticed. In the years since making her professional debut, Colby has worked hard to earn bigger roles and the last few years have been huge for her career. In 2019, she joined the cast of two very popular series, The Boys and Fear the Walking Dead. Not only have these shows highlighted her ability to play different roles, but they've also proven that she has what it takes to keep up with a demanding schedule. Continue reading for 10 things you didn't know about Colby Minifie.
1. She's A New York Native
Colby was born and raised in New York City which is also where she got her start as an actress. She decided to stay close to home for college and attended Hunter College in Manhattan. Being from the city definitely has its perks, especially for someone who wants to be a professional actor.
2. She's Selective About The Roles She Takes
No matter how talented or experienced an actor is, getting a role is never guaranteed. As a result, there are lots of actors who are willing to take any opportunity that comes their way. Colby isn't that type of actress, however. She is very mindful about the roles she takes and doesn't want to be a part of any project that puts out a message that she can't stand behind.
3. She Got Her Start As A Child
Work is the last thing on most children's minds, but Colby wasn't most children. She developed an interest in acting at a very young age and got her start when she was only 11-years-old. Her talent quickly became apparent and she was a scholar with the National YoungArts Foundation. Other celebrities who have been affiliated with the program include Kerry Washington and Nicki Minaj.
4. She Loves To Read
Colby probably doesn't have nearly as much free time as she'd like, but when she does get a chance to take a break from work, she loves to spend it catching up on a good book. She is a very avid reader who enjoys and appreciates all sorts of stories. On occasion, she'll even share a photo of the book she's currently reading with her followers on Instagram.
5. She's Not Afraid To Speak Her Mind
Colby isn't afraid to share her opinions on a wide range of topics including human rights and politics. She has made it very clear that she supports president elect Joe Biden and she has also shown her support to sexual assault survivors and members of the LGBTQ+ community and other marginalized groups.
6. She's A Dancer
There's no denying the fact that acting is Colby's 'thing', but it's definitely not her only thing. She is also a talented dancer who spent four years performing with the National Dance Institute. Colby's wide range of talents have opened up lots of doors for her throughout her career.
7. She Enjoys Hiking
There's nothing that can quite compare to the beauty of nature and the feeling of taking in a deep breath of fresh air after a long day. For those reasons, Colby loves to spend as much time outdoors and it has become one of her favorite ways to relax and recharge. She loves to go hiking or exploring on nearby walking trails.
8. Her Parents Have Always Been Supportive Of Her Dreams
When most parents think about what they want for their children, a stable job is usually one of the first things that comes to mind. As a result, lots of parents are nervous at the thought of their child wanting to pursue a career in the entertainment industry. While some parents try to talk their kids out of chasing their creative dreams, Colby is lucky to come from a family that has always supported her. From the very beginning of her career, her parents have been her biggest fans.
9. She's Passionate About The Environment
As someone who enjoys spending time outdoors, Colby is also passionate about making sure that everybody does their part to take care of the earth. She is a big believer in the importance of recycling and composting and loves sharing information with her followers.
10. She's Been On Broadway
Colby loves theater and one of her dreams has always been to be a part of the New York theater community. Not only has she become a part of that community, but she's gotten the chance to perform on Broadway – not once, but three times. Her most recent Broadway appearance was in the 2017 production of Six Degrees of Separation.
Tell us what's wrong with this post? How could we improve it? :)
Let us improve this post!