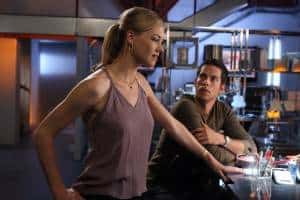 This episode of Chuck certainly piled on the guest casting: a supermodel (Karolina Kurkova), the Old Spice Guy (Isaiah Mustafa), the guy from Perfect Strangers (Bronson Pinchot), and the Incredible Hulk (Lou Ferrigno). If you missed any of it, you can catch up with Michael's recap here.
On the mission front, Chuck and Sarah are dispatched to deal with a Volkoff agent slash runway model named Sofia (played by Kurkova) armed with a stolen clip of "smart bullets." She has one huge bodyguard (played by Ferrigno) also standing in their way. While Chuck and Sarah's personal issues complicate their usual working rhythm, their mission in Milan is no less filled with action. There's just one more naked supermodel than usual. Yvonne Strahovski is once again at the center of another interesting fight sequence with a female villain, this time with Kurkova on a fashion show runway. Though she ends up with a bloody nose, her moves here are no less than impressive.
Personally, Chuck becomes worried when after eight months of living together Sarah hasn't unpacked any of her stuff yet (hence the title of the episode), Devon and Ellie over-prepare for the arrival of a Baby Awesome, and Morgan points out to General Beckman that her new Buy More is a little too perfect. "No one should ever want to work here," he says from experience. With that in mind, he takes Casey and goes to recruit Jeff and Lester back to their old jobs – which requires Casey shooting Jeff with about a half-dozen tranquilizer darts, but has the desired result. We find out by episode's end that Morgan has recruited all his old Buy More cohorts back to the fold, which gets him a promotion to…Store Manager?! (One can only imagine that General Beckman is so glad she doesn't have to fill that role anymore.)
In the midst of the recruitment drive, Morgan accidentally reveals to Casey that he's been in contact with Casey's daughter Alex, and points out that Casey himself hasn't been. This is enough to get Casey to call up Alex, if only to presumably interrogate her about why she's socializing with Morgan. By the end of the episode, Sarah has finally unpacked her stuff into Chuck's closet, so everyone is taking steps forward in their personal lives.
It was great to see Ryan McPartlin return to the Chuck fold with this episode (shirtless yet again, as is apparently the norm for him), and Isaiah Mustafa made a much better Greta acting-wise than Olivia Munn, although Kurkova left something to be desired in that department (though to be fair, she's a model, not an actress). I'm still concerned about whether or not the numerous amount of guest stars announced for this season will overshadow the main cast, but so far that doesn't seem to be the case. It's actually a thrill to see the old Buy More gang back, nerds, freaks and geeks alike. So far, these first two episodes of Chuck haven't missed a beat, and who isn't looking forward to the return of Nicole Richie and Steve Austin next week? It's shaping up to be another great season.