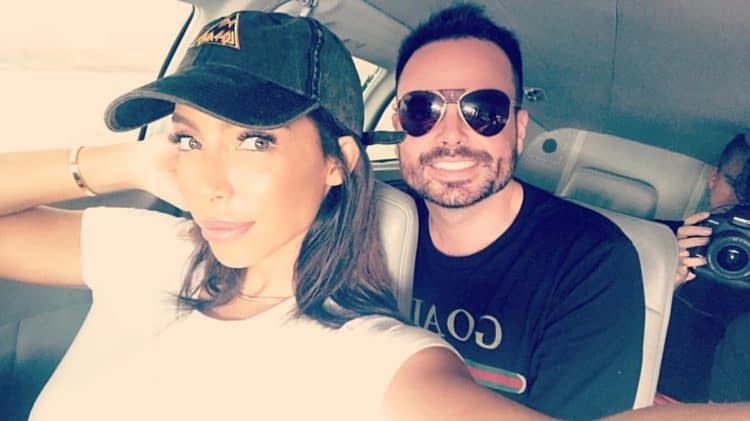 If you want to see the public face of Christopher Lourdes, it's easy. Just head on over to his much-discussed Instagram account. Lourdes has been making news since his time on Million Dollar Matchmaker and there are plenty who wish they lived his lifestyle. At 6′ 1" tall, Lourdes is not only handsome, but he has a dashing 007 kind of visual presence when dressed in tuxedo or lounging on his expensive autos. Lourdes is the child of a wealthy family of philanthropists whose work supports thousands annually. His grandfather, Don Julio Lourdes, was the founder of The Rotary Club of Cuernavaca, Mexico, which provides charitable help for a reported 365,000 people each year. The Lourdes family established a school for abandoned orphans as well, and Christopher continues the family legacy of service.
In brief glimpses past his public face, Christopher's time on Million Dollar Matchmaker told viewers much about what he was seeking for his personal life. He's looking for a woman who is family oriented, is a hustler who could be "dropped into another country without speaking the language and still be able to make her own way, someone with values such as his vegetarianism and animal rights activism, someone who demonstrates loyalty, and a woman who has street smarts which would allow her to bypass the common person.
1. When Christopher announced his "My First Vlog!!!" on YouTube, he told the world that he "matches his watch to his car, and his car to his shoes"
He did several takes, and he made it clear that he would cover "a lot of travel stuff, a lot of food stuff, and donut stuff", but that the main source his channel would be about "business stuff". His channel would provide viewers with things they would need to know to run a business from start to finish with the expert information he'd provide. He planned to create a real-time show that would follow his life in Miami, Las Vegas, New York, and Los Angeles"… wherever he would be going and do it in real time.
2. Christopher's travel website TravelThreeSixFive has 115,000 followers
The company intends to curate travel insights from key individuals and city locals and then pass the best ones on to followers.
3. Christopher is the CEO/President of Auge International, Inc.
Augue is pronounced (ow-hey) and its definition includes three key components of the company's vision and purpose. According to the corporate website, these include "rapid rise, a time of industrial growth and an increasingly popular fashion". The venture capital firm has existed since 1954, first as a print company, and now focusing on several additional lucrative industries such as food and beverage, automotive, CBD, and beauty. Most notable of its partners are BMW, but Formawell Beauty X Kendall Jenner is one partnership where Christopher has also served as Director since January 2018.
4. Christopher was the General Manager of RMF Printing Technologies, Inc
His tenure there began in October 2011 and ended in December 2017. He led the sales team there utilizing his venture capitalist skills gained, in part, by his B.S. in Marketing from the University of Las Vegas.
5. Christopher holds a Food Safety Management certification.
His certification is from the National Restaurant Association. It was issued in January 2016 and will expire in January 2021.
6. Among other interests, Christopher is Following Petco and Comic-Con International
Christopher is an animal activist, which explains Petco. He's a vegetarian, which may explain ViaCyte. Comic-Con International may be the entertainer seeking entertainment. He's also keeping an eye on Beach House Group, Adventure Sports Network, and H2 Talent and Cypress HCM- the staffing and recruiting agency based in Walnut Creek, California. Of course, he's tracking his own company involvements such as RMF Printing Technologies, Inc., Auge International, and Inc. Formawell Beauty X Kendall Jenner. Surprises include the biotechnology regenerative medicine company ViaCyte, located in San Diego, CA, which focuses on developing replacement therapies for long-term diabetes treatments.
7. When Game of Thrones final episode was about to air, Christopher rejoined Twitter.
His May 17 post tweeted that he "joined Twitter again just to join in the convo on the last episode". Countless GOT fans had plenty to tweet about that last episode.
8. Christopher ran into all sorts of trouble when he appeared on Million Dollar Matchmaker looking for love.
Expert Matchmaker Patti Stanger tried to pair Christopher with rapper Tiffany Foxx but discovered that Christopher's Instagram addiction was very important to him and that he probably wanted "an accessory" model type more than someone to love.
9. It's been implied and stated explicitly that Christopher's entrepreneurial efforts are focused on selling and gaining celebrity status using Instagram.
According to the Rich and Shameless blog, Christopher may be caught up in what was described as "self-induced controversy" for the purpose of selling themselves via social media. Christopher's reputation as the "Instagram King" is proposed as merely part of his overall promotion of himself and his work through social media evokes a passion in viewers who either love or hate the celebrity that these personalities gain through social media.
10. Though Christopher isn't easily linked with his family members, his brother Sean appeared on Marrying Millions.
Sean and Megan, his fiancée, were part of Lifetime's reality series about couples whose incomes are "highly mismatched". According to the New York Post, the pair live in Trump Tower. Just as Christopher is an heir to the Auge International publishing conglomerate, so is Sean. Along with Christopher, Sean helps to operate the family charity, the Lourdes Foundation. In the article, Megan states that Sean's father was wary about her and didn't trust her reasons for wanting to marry Sean.
This very candid interview offers a glimpse into the family dynamics which also affect Christopher. He's been seen seeking love with the help of matchmaking efforts. He's also posted precious photos on Instagram where he is seen gently holding a child. Sean told Parade that Christopher "wants a partner with a big heart who will work together with him to accomplish things."
Christopher shares his extravagant lifestyle with the world as he posts photos and videos of everything expensive that the world can offer while he searches for that exactly right person to welcome into his life and family.